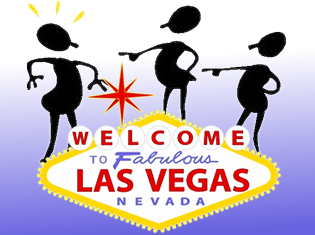 Nevada casino gambling revenue fell 2.5% to $954.3m in October, snapping a two-month streak of positive revenue tallies. October's decline was more pronounced on the Las Vegas Strip, where revenue fell 5% to $551.3m. For a change, it wasn't bad luck at the baccarat tables that contributed most significantly to October's slump, as slots revenue fell 6.3% to $576.1m. Again, the Strip's slot decline outpaced the statewide tally, falling 10.9% thanks in part to a calendar quirk and an abnormally high hold percentage that inflated October 2012's numbers.
Baccarat revenue dramatically outpaced all other table games, rising nearly 17% to $151.1m in October thanks to a 29% rise in sums wagered and a 13.3% hold rate. Baccarat accounted for 27% of total Strip casino win in October, a figure University of Nevada, Las Vegas gaming researcher David G. Schwartz said would have been "inconceivable several years ago." There were 303 baccarat tables operating in Nevada in October, nearly three times the number available in the same month in 2004. During that same time frame, the number of slot machines in Nevada has fallen from nearly 178k to just over 156k.
Blackjack was the second most valuable table game, although revenue fell 5.2% to $85.4m. The rest of the table games numbers looked thus: craps ($33.2m, +14%), roulette ($16.1m, -68.3%), three-card poker ($12.4m, -7.5%), mini-baccarat ($9.8m, +47.3%), pai gow poker ($7.3m, +5.3%), let it ride ($3.2m, -16%), keno ($2.7m, -0.6%) and other games ($12.2m, +7%). Overall table game revenue was up 3.5% to $368.5m.
Poker revenue rose 9.5% to $9.6m, and while the Nevada Gaming Control Board won't break out online poker revenues until more than two sites are operational, Union Gaming Group's number crunchers suggested Ultimate Poker and WSOP.com contributed a combined $600k to October's poker revenue total.
Nevada's sportsbooks had a very healthy month, with revenue up 351% to $30.3m. Football results looked even better, rising 390% to $18.1m on a 5.3% hold and an all-time record handle of $342.6m. (Suffice it to say, it was a better result than October 2012, which saw a rash of favorites covering, resulting in a -2% hold.) Baseball was another story, falling 43% to $4.9m, while basketball dipped 13.5% to $1.7m. Parlay cards rose 85% to $4.4m, while racebook revenue slipped 5.7% to $3.9m.