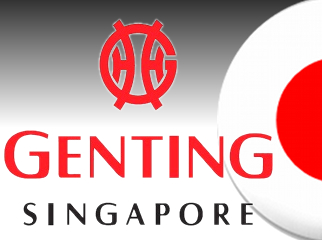 Genting Singapore PLC, the division of Malaysian conglomerate Genting Bhd. that runs the Resorts World Sentosa (RWS) integrated resort, reported flat earnings in the second quarter of 2013. An unfavorable win percentage blunted the impact of a "significant increase" in VIP gambling turnover, leading to a mere 1% rise in earnings to S$310.8m (US $245m), although that sum was 24% higher than Q1's tally. Group revenue rose 0.8% in Q2 to S$707.9m despite a 2.4% drop in gaming revenue to S$548.6m. Net profit was S$169.6m, slightly above the S$165.5m in Q2 2012.
Genting Singapore released a statement saying it was "fine-tuning our sales and marketing programs" to counter projections that Singapore's tourist arrivals will slow in coming years. While Genting Singapore broke ground last month on a new hotel in the city-state's Jurong Lake District, the company is also considering overseas expansion. As might be expected from a company that operates one of the world's two most profitable casinos – Singapore's Marina Bay Sands being the other – Genting Singapore is currently sitting on $4b in cash. Echoing recent comments made by Genting Bhd. boss Lim Kok Thay, Genting Singapore is monitoring Japan's legislative progress toward opening up its market to casino developers, and Genting Singapore says it is "prepared to invest in an integrated resort in Japan when the opportunity arises."
When that opportunity arises, Genting Singapore may find itself well positioned. The Japanese legislators who have been pushing hardest for their country to get on the casino track have repeatedly cited Singapore's casino industry as a model to emulate, both for its capacity to earn revenue and its ability to keep the country's ranks of problem gamblers in check. Japan's admiration for Singapore's casino biz may also suggest a desire to emulate the hands-on nature of Singapore's Casino Regulatory Authority, which has not been shy about dispensing hundreds of thousands of dollars in fines on its two gaming joints for various infractions.
Comments