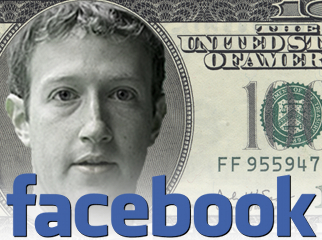 Social gaming kingpin Facebook saw its stock soar in after-hours trading on Wednesday after the company posted a better than expected Q2 report card, featuring an impressive boost in mobile ad sales. For the three months ending June 30, overall revenue hit a record $1.81b, up 53% year-on-year and improving on Q1's 38% growth and the 40% figure from Q4 2012. Facebook reported net income of $333m compared to a $157m loss last year (although that latter figure reflected significant one-time charges).
Facebook's ad revenue rose 61% to $1.6b, of which $655.6m was derived from mobile ad sales. That equates to 41% of total ad revenue, a significant boost from the 30% figure in Q1 and the virtually negligible percentage recorded a year ago. Average price per ad was up 14% and COO Sheryl Sandberg revealed that 300k business pages had purchased so-called 'promoted posts' in users' news feeds in Q2, of which 20% were new advertisers. Sandberg said news feed ads were "creating eight times more engagement and 10 times more recall."
The social network's daily active users (DAUs) rose 27% year-on-year to 699m, while monthly active users (MAUs) rose 21% to 1.15b. Monthly mobile users rose 51% to 819m and the ranks of mobile-only users rose from 189m in Q1 to 219m by the end of June. The stellar figures will go a long way toward dispelling investors' previous concerns about Facebook's 'mobile problem.' CEO Mark Zuckerberg said the work Facebook had done to address its mobile deficiencies "provides us with a solid foundation for the future."
On a post-earnings call with analysts, Zuckerberg said anecdotal reports of teenagers ditching Facebook en masse weren't reflected in the numbers he was seeing. The average Facebook user spent 17.39 minutes per day accessing the site in Q2, and over 70% of North American MAUs check the site on a daily basis. While the ranks of MAUs in North America and Europe are up only marginally from Q2 2012, the figure for Asia topped 339m, up from 255m last year, while the 'rest of world' (ROW) category has risen from 268m to 346m over the same period. In sequential terms, Asia's MAUs are up 6.26% from Q1 compared to North America's 2.15% growth over the same period.
In monetary terms, average revenue per user (ARPU) in the US and Canada is much higher ($4.32) compared to Europe ($1.87), Asia ($0.75) and the ROW ($0.63). The worldwide ARPU comes in around $1.60. Facebook doesn't break down its mobile user base in terms of geography, so it's tough to say how much of its mobile growth is coming from these less lucrative regions.
Facebook's tentative steps into the real-money gambling arena got a boost this month after Paddy Power announced plans to bring real-money sports betting to the platform and Zynga announced it would launch its own real-money games on the social network. Facebook's real-money operations are currently only accessible by UK residents, but the company's head of partnerships Sean Ryan told attendees at the recent World Gaming Executive Summit in Barcelona that plans were afoot to extend the real-money reach to Spain and Italy.