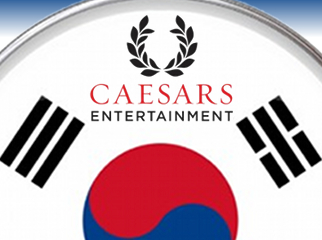 Has Caesars Entertainment popped its Asian cherry? Having infamously passed on the opportunity to establish a presence in Macau, the debt-heavy Caesars has been chomping at the bit to set up in any Asian country that would have it. Now UBS Investment Research analyst Sera Oh has reported on an interview South Korean media conducted with the mayor of Incheon, the proposed site of many a resort-casino project. According to these reports, which Oh described as "almost confirmed," Caesars has won the lone casino license up for grabs, although an official announcement by the Ministry of Culture, Sports and Tourism isn't expected until later this month.
In January, Caesars announced it had formed a joint venture with Indonesian conglomerate Lippo Group and an unidentified third party to seek a casino license for the Yeongjongdo island district of Incheon's free economic zone. The LOCZ Korea venture, in which Caesars would hold a 40% stake, promised a $500m first phase with 100 gaming tables and 150 slots, all of which would only be accessible by non-Koreans (the locals being limited to just one of the country's 17 small-scale casinos).
If confirmed, Caesars' victory would leave the only other foreign bidder, Japan's Universal Entertainment, out in the cold. In December, Universal inked a deal with South Korean retail giant Shinsegae Group to pursue a casino project near the Incheon International Airport. The South Korean rebuff would be the latest setback for Universal's expansion plans, following the demise of its land deal with Philippine outfit Robinsons Land on Manila's Entertainment City project (which, if not resolved soon, could spell the end of Universal's Philippine ambitions).
In 2011, Caesars CEO Gary Loveman made a similar casino pitch to Japanese legislators. On Monday, Tokyo governor Naoki Inose says he would welcome a casino in the Japanese capital's waterfront district, despite the fact that the country's legislature has yet to authorize such establishments. Inose told attendees at a metropolitan assembly session that he would "consider preparing an integrated resort facility that combines restaurants, theaters and casinos." Japan has been flirting with passing casino legislation for years now, and the latest legislative effort had been expected to debut in April, although that's since been pushed back to an undetermined date later this year. The Asahi Shimbun quoted Inose saying he expects Japan's parliament "to revise the law as soon as possible."
Comments