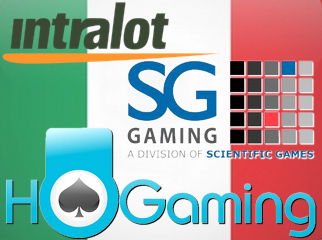 Intralot's Italian-facing online gambling operation has struck a games content deal with SG Gaming, a division of Scientific Games Corporation (SGMS). Both parties said very nice things about each other, and celebrated the fact that the deal would make each of them rich beyond their wildest dreams (or words to that effect). The first games will make their debut on Intralot Italia's iGaming platform later this year. SG Gaming, which was formed in October to encompass SGMS' non-lottery operations, struck a similar deal with Gala Coral subsidiary Eurobet Italia in November.
HOGAMING GETS ITALIAN LICENSE
Live dealer stalwarts HoGaming have received the blessing of Italian gaming regulator AAMS to supply licensed Italian iGaming operators with live casino product. The Isle of Man-licensed HoGaming established an Estonia-based production studio in September, and CEO Peter Kjaer called the AAMS nod "the perfect opportunity to show European operators that we're serious when it comes to offering them opportunities that were previously exclusive to the top Asian providers."
HoGaming, which is also licensed in the Philippines, plans to roll out a mobile version of its product in the coming weeks, and Kjaer promises it will be "the first to make full use of 3G and 4G networks … regardless of the device's connection, make or operating system." HoGaming also offers land-based clients the ability to stream casino action right from the gaming floor via individually-branded studios staffed by native Italian-speakers.
ITALY STUDYING 'STRATEGIC COUNTER-MOVES' TO COMBAT UNLICENSED OPERATORS
The addition of slots to the list of products that Italy's licensed online operators can offer punters has been credited with raising gaming revenues 80%, but operators shouldn't count on any further expansion of online gambling options, at least not anytime soon. Luigi Magistro, the head of AAMS, told GamblingCompliance that while he sympathized with licensed operators' desire to compete on an equal footing with their unlicensed brethren, "new games are not expected in the future." That said, Magistro copped to the fact that it was parliament, not AAMS, that ultimately decided such matters.
While it can't help on the gaming options front, Magistro says AAMS can help level the playing field with the more competitive offers on offer at unregulated sites. Magistro revealed that AAMS had been "studying some strategic counter-moves, such as implementing rules that allow the monitoring of capital flows to unauthorized sites."