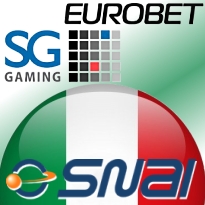 SG Gaming, the umbrella under which Scientific Games Corporation grouped its Barcrest, Games Media and The Global Draw divisions last month, has inked a deal to supply online games to Gala Coral Group's Eurobet Italia subsidiary. The deal's first fruit will come via the launch of Crown Jewels, which has already received the blessing of Italian gaming regulator AAMS. Other games are scheduled to be rolled out 'before year end."
Barcrest is partially to blame for the ugly figures contained in Italian operator SNAI's Q3 earnings report, after incorrect payout glitches caused SNAI to disconnect its Barcrest video lottery terminals in April. For the three months ending Sept. 30, Snai's revenue fell 12% to €105.7m, while earnings tumbled a whopping 73.5% to €4m, creating a net loss of €18.1m for the quarter. SNAI's sports betting turnover fell 6.7% while racing wagers fell 26%, reflecting the declines plaguing the overall market. SNAI's overall turnover rose 13.9% to €3.98b, thanks mainly to a 128% boost in online gaming turnover to €663m via the launch of online casino and cash poker games. For the year-to-date, SNAI's revenue is off 8.7% to €369.5m and earnings are down 31.7% to €38.3m.
We're now less than two weeks away from the Italian government's Dec. 3 target date for issuing the country's first online slots licenses, with operators expected to be offering online slots play by early January. Ahead of this shift, AAMS has announced a ban on the installation of new 'totems', the ubiquitous gaming terminals found in internet cafés, tobacconists and other public spaces that allow punters to connect to online gaming sites. The government announced a similar edict in May 2010, but now claim they mean business this time. The totems have long been the bane of licensed slot machine and video lottery terminal operators, who have also expressed concern over the disparity in the tax rate they pay (4% of turnover) vs. the proposed tax on online slots (20% of gross profit).
Comments