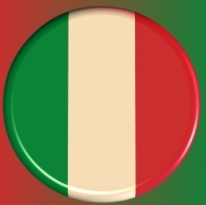 Italy's parliament has ratified new gambling advertising regulations with a few changes from the previously approved text. In addition to a prohibition on gambling ads during any television or radio programs in which minors could be assumed to take an interest, the prohibition has been extended to cover the half-hour immediately preceding and following such programs. The ads must also clearly specify the percentage of the payout from the gambling in question. However, legal eagles DLA Piper remain troubled by the regulations' rather broad wording that ads can't create "an incentive to the gambling activity or to exalt the game." Given that breaching these prohibitions can result in fines of up to €500k for both operators and broadcasters, DLA Piper is trying to convince Italian gambling regulator AAMS to provide guidance that will add a little clarity to the new advertising no-no's.
This week, AAMS released a summary of the country's gambling market through the first eight months of the year. The total market turnover was €56.5b, up 16.6% over the same period in 2011, but the amount held by operators fell 4.7% to €11.2b. The dip is largely the result of Italian punters switching their allegiances from slots to video lottery terminals (VLTs), which offer a substantially higher payout (75% and 90% respectively). Total gaming machine turnover rose 14% to €31.2b, of which slots turnover amounted to €18.2b, off 10% from 2011, resulting in gross gaming revenue (GGR) of €4.5b, down from €4.8b last year. VLT turnover rose 70% to €13b, with GGR more than doubling to €1.5b.
Horseracing in the Boot is living anything but la dolce vita, with turnover falling by a third to €678m and GGR down an equivalent proportion to €201m. Sports betting suffered less of a decline with turnover down 3% to €2.4b but GGR fell nearly 17% to €465m. Bingo turnover fell nearly 10% to €1.1b yet GGR was unchanged at €333m. The relatively new online casino and poker cash games saw a more than fivefold increase in turnover to €8.4b with a similar rise in GGR to €234m. Naturally, this had a cannibalizing effect on tournament poker and skill games, where turnover and GGR each fell by more than half to €859m and €103m respectively.
Finally, Lottomatica's Lotto operations saw turnover fall 9% to €4.1b and GGR slipped 30% to €1.34b, while the scratchcard business saw turnover fall 6% to €6.5b and GGR down 3% to €1.9b. SISAL's Superenalotto fared worse, with turnover falling nearly a quarter to €1.3b and GGR down a third to €690m. If there's a bright side, it's that the taxman's take was also down. Victory!
Comments