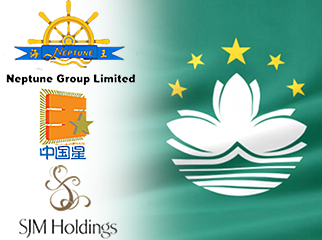 Mega-junket operator Neptune Group has announced it will bolster its operations in Macau via a new VIP gaming room at SJM Holdings' Grand Lisboa casino. The new Guangdong 31 Sky Club VIP room will feature a minimum of 11 gaming tables, pending regulatory okay. It was last August that Neptune entered into a memorandum of understanding (MOU) to take over the room, part of a trio of MOUs it inked with SJM, Wynn Macau and MGM China. Neptune chairman Lin Cheuk Fung released a statement in which he claimed to have plenty of ink left in his MOU pen, as "many potential investment maneuvers are within our grasp," including some of the new facilities currently under construction on Cotai.
The Grand Lisboa is also in the news due to SJM's decision to transfer 30 low-yielding tables from the underperforming Oceanus casino to its flagship property. Union Gaming Research analyst Grant Govertsen suggested the added tables – which will be split roughly 40/60 between VIP and mass market segments – could boost the Grand Lisboa's revenue by HK $1.1b ($141.7m) and earnings by HK $150m ($19.3m) in the second half of 2013. Macau's tight control over its gaming tables has led operators like SJM to occasionally shift tables between its licensed properties, which can have significant impact on VIP gaming room promoters.
China Star Entertainment Ltd., the Hong Kong-listed firm with interests ranging from feature film production to Macau casino operations, also runs a VIP gaming room at the Grand Lisboa. China Star just announced its 2012 financial results, which showed a profit of HK $94.5m (US $12.2m), a sharp turnaround from 2011's HK $632.7m loss. "Keen competition" for high-rollers resulted in gaming revenue from the Grand Lisboa room falling 77.4% to just HK $15.5m ($2m) in 2012. China Star also owns Macau's Lan Kwai Fong hotel-casino, where VIP action fell 40% to HK $184.3m ($23.7m). However, having "spent resources" to boost the more profitable mass-market gambling segment, Lan Kwai Fong's mass market revenue rose 45.7% to HK $798.8m ($102.9m) and the hotel's overall profits rose 80% to HK $192.8m ($24.8m).
Comments