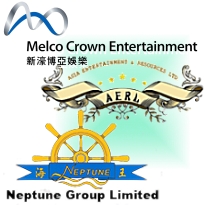 The masses have spoken. Macau casino operator Melco Crown Entertainment's Q2 2012 net revenue fell 2% to US$938.5m, but strong performance by its mass market segment helped create a 23% rise in net income to $82.3m. The joint venture of Lawrence Ho's Melco International Development and James Packer's Crown Ltd. saw lower rolling chip volumes in Q2, reflecting a Macau-wide trend. JP Morgan observed that Macau's July VIP gaming revenue fell as much as 8% year-on-year – the first time in three years that figure had veered into negative territory – while mass market gaming revenue rose 25–30%.
The City of Dreams casino contributed the bulk ($684.2m) of Melco's net revenues, with adjusted EBITDA up 22% to $184.3m. Mass market table games drop increased 10% to $822.5m, and the 29% hold was a vast improvement over 2011's 23.6%. Slots handle rose 28% to $727.8m. Rolling chip volume was approximately in line with 2011 with a win rate improved from 2.8% to 3%. Over at the Altira Macau, net revenue fell almost one-third to $208.5m. Adjusted earnings were off almost two-thirds at $26m as rolling chip volume fell from $13.2b to $10.2b and win rate fell from 3.1% to 2.7%. Mass market table games drop fell a more modest 6% to $139m and hold rose from 15.8% to 17.7%. Revenue at the slots-only Mocha Clubs rose 8% to $35.1m, but a 30% increase in the number of machines in operation led to a 20% decrease in net win per machine per day, which in turn pushed earnings 10% lower to $9.1m.
On a post-results call with analysts, Lawrence Ho insisted that despite earlier suggestions, his under-construction Studio City project would include a casino. Ho also said the recent revenue slowdown in Macau "does not surprise us. It is inevitable the market would moderate." With a new Melco Crown project in the works in the Philippines, Ho can afford to be sanguine about Macau's VIP market tightening. But for Macau's junket operators, slowdown means consolidation. Case(s) in point…
MORE JUNKET IN THE TRUNK
Asia Entertainment & Resources Ltd. (AERL) announced it has entered into a non-binding memorandum of understanding (MOU) to acquire fellow junketeer Bao Li Gaming Promotion Ltd. (BLGP). Under the terms of the MOU, AERL will add BLGP's five tables at City of Dreams to AERL's current total of 29 VIP tables at Galaxy Star World, Galaxy Macau and the Venetian Macau. AERL recently switched from a fixed-commission model to a rev-share model, and the latter will also apply to its new City of Dreams room. The deal is for $15m upfront with a provision for three extra payments of $13m and 625k ordinary shares of AERL if the BLGP room's rolling chip turnover stays above $2.5b in each of the next three years (ending Dec. 31, 2015). The deal has an expected closing date of Sept. 30 and BLGP's promoter Kan Kuong Lou is providing a personal guarantee on any bad loans incurred prior to the closing of the acquisition.
Not to be outdone, the Neptune Group Ltd. released a statement to shareholders on Monday detailing more information regarding its own expansion plans. Neptune has entered into multiple MOUs with promoters of the Guangdong 31 Sky Club (at least 11 tables at the Grand Lisboa, generating rolling turnover of at least US $619m per month); the Guangdong VIP Club (24 tables at MGM Macau generating $1.95b); and the Wynn Guangdong VIP Club (29 tables at Wynn Macau generating $1.2b). Each club takes a profit of 0.4% of turnover. Neptune, a favorite whipping-boy of the CasinoLeaks-Macau union muckrakers, already runs about 10 rooms of its own, so this is a clear case of Macau's rich getting richer. No terms have been fixed, as Neptune has until Jan. 31, 2013 to perform due diligence reviews on each operation to determine whether it's worth proceeding.