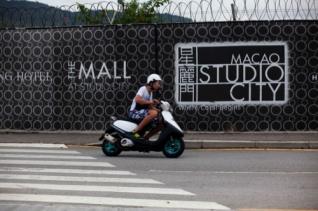 Construction workers at Macau Studio City could be back in gainful employment early next year with work set to start in earnest within the next six to nine months. Macquarie Equities Research analyst Gary Pinge made the remarks to Macau Business and added that he expects the resort to eventually have a casino at some point. Pinge confirmed this to Bloomberg by stating that he thought "a casino" would be "covered". He also said the publication of Melco Crown's contract to build at Studio City was "a positive development" because it "cements the future growth pipeline" for the enclave's gaming industry. All signs point to the end game being a victory for Melco Crown's fight for a casino.
One of Macau's legion of VIP room operators has put up a HK$10 million reward for anyone that helps detain his attackers. Junket operator Ng Man Sun has upped the stakes in finding the six unidentified people that did a number on him last month inside the New Century hotel-casino. The ad, taken out in the Macau Daily News, said: "Anyone who can provide intelligence to the Judiciary Police that leads to the arrest and sentencing of the mastermind behind the case could receive the HK$10 million reward, including the six attackers who assaulted me."
Macau's unemployment rate rose by a miniscule 0.1 percentage points for the three months ended June. The rate, now sitting at 2.1 percent, means that 7,200 people are now out of work in Macau. Compared to other destinations around the world it's a tiny figure and means that the total workforce across Macau stands at 346,000 for the April-June period.