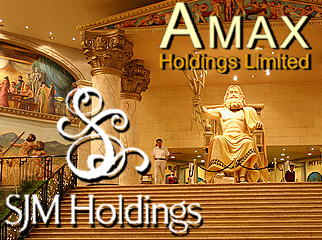 Asia's largest casino operator SJM Holdings saw its mass market segment grow much faster than its VIP segment in 2012, according to the company's annual earnings report. While SJM's share of the Macau market shrunk from 29% to 26.7% last year, SJM recorded record revenue, earnings and profits in 2012. Profit rose 27% to HK$6.745b (US $869.5m) on total gaming revenue of HK$78.9b (+4.5%), while non-gaming revenue added HK$1.058b (+34.1%). Earnings rose 10.1% to HK$7.631b.
SJM's overall VIP gaming operations revenue was up 1% to HK$53.3b, while mass market table revenue rose 13.3% to HK$24.1b. Slots, electronic table games and Tombola revenue rose 3% to HK$1.5b. VIP operations shrunk from 69.9% of SJM's total business in 2011 to 67.5% in 2012 as mass market gamblers increased both their visits and spend per visit.
Visits to SJM's flagship property Casino Grand Lisboa rose from an average of 34,733 per day in Q1 to 40,770 in Q4, while total gaming revenue at the Grand Lisboa increased 28.2% to HK$29.2b thanks to strong activity from high-rollers after converting two areas of the property into VIP gaming hubs. As such, the Lisboa's high-roller revenue was up 34.4% while the mass market tally increased by just 11.5%.
While some Macau operators have indicated the recent lunar new year numbers were disappointing, SJM managing director Angela Leong On Kei said she was "personally satisfied with the gaming revenue in the spring festival." SJM operates 20 of the 35 casinos currently accepting wagers in the world's hottest gambling zone. In October, SJM got its long-awaited okay from Macau officials to proceed with its plans to erect its first gaming joint on the popular Cotai Strip. At year's end, SJM's total gaming presence in Macau amounted to 587 VIP gaming tables, 1,184 mass market tables and 3,532 slots.
AMAX WARY OF GREEKS BEARING DEBTS
SJM operates 14 satellite (third-party promoted) casinos, including the Greek Mythology Casino inside the New Century hotel on Taipa island, which was the subject of a curious press conference late last week. The casino has been locked in a year-long fight with Hong Kong-listed junket operator Amax Holdings over SJM's decision to reallocate 40 gaming tables from Greek Mythology to other SJM properties. Amax, which holds a 24.8% stake in Greek Mythology, has been struggling to get a proper accounting of financial figures from the casino ever since. This has resulted in Amax twice replacing auditors who wouldn't agree to sign off on their financial reports until they received all the relevant info.
Last Friday, Chinese-language Shimin Daily reported on a press conference at which an unidentified representative of an unspecified "junket room operator" based at Greek Mythology pleaded with Macau gaming regulators to compel the casino to pay MOP 40m (US $5m) the table reallocation allegedly cost the unnamed junket operator, plus a further MOP 3m for unpaid revenue from ongoing operations. A female spokesperson for the casino said the reallocation was entirely SJM's decision and that the total compensation the junket operator was owed amounted to just MOP 600k.
The spokeswoman claimed to be the sister of the former squeeze of Amax chairman Ng Man Sun, who was savagely beaten at the New Century last June by unidentified assailants. Rumors are rampant that Ng's beating was related to the former lovers' breakup, an apparently acrimonious split that SJM CEO Ambrose So Shu Fai described last August as having affected Greek Mythology's business, prompting the decision to reallocate the tables. Which might explain why the junket spokesman didn't want to give his name…
Comments