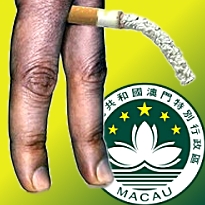 Macau has already revealed its record-breaking 2012 revenue totals, now Portuguese news agency Lusa has provided estimates as to which operators got the biggest slices of that revenue pie. SJM Holdings Ltd. reportedly took a 26.5% chunk, the only one of Macau's six casino concessionaires to score above 20%, but SJM lost ground from 2011's 29% tally. Galaxy Entertainment Group scored 19%, a mere 0.1% ahead of Sands China Ltd., echoing the two companies' tie for 16% in 2011. Melco Crown Entertainment Ltd. fell from 15% in 2011 to 13.5% in 2012, Wynn Macau Ltd. fell from 14% to around 12% and MGM China Holdings Ltd. matched its 2011 tally with about a 10% share this year.
Galaxy Entertainment had a good enough year for founder Lui Che Woo to record the single biggest percentage gain on the Bloomberg Billionaires Index. Lui's fortune more than doubled to $11.9b over the past 12 months, good enough to elevate him to the #82 ranking on the Bloomberg list. The fattened wallet goes a long way toward explaining Galaxy's willingness to splash out $6.5b on their new resort casino on Macau's Cotai Strip.
SMOKING BAN BRINGS FINES AND STRIKE THREATS
Macau's smoking ban, which went into effect on Jan. 1, resulted in 42 casino visitors each being fined 400 patacas (US $50) within the first 19 hours. A Health Bureau spokesman told Macau Business Daily "the fines were issued right away, without giving any warnings or advice. No conflicts have been encountered and no cases required police support." All six concessionaires have now designated smoking areas within their establishments, with Sands China reportedly coming closest to utilizing the maximum 50% of gaming floor space, with 49.64% of Sands' four properties now 'smoke 'em if you got 'em' zones. Wynn Macau was at the other end of the spectrum, choosing to label only 41.44% of the gaming space at its lone casino as smoking-friendly.
Macau casinos' efforts to ensure compliance with the smoking law have been roundly criticized by casino workers' associations, which claim casino employees are now subject to even higher concentrations of nicotine-laden smoke. Choi Kam Fu of the Macau Gaming Enterprise Staff's Association told the Macau Daily Times that casinos were "assembling the most popular games and the manually operated games together into the smoking zones and leave the automatic ones such as slot machines in the non-smoking areas." As a result, "most workers are still working in areas [in which] air quality has not improved significantly, it might have deteriorated." A spokesman for the Forefront of Macau Gaming workers' association suggested amending the law to define the smoking areas by number of tables operated by human employees rather than floor space. In the meantime, by "creating small and enclosed spaces, we die sooner than later. Are they trying to force us to strike?"
We suspect any strike threats would only accelerate the rollout of more automated tables like the Fast Action Baccarat system. We think a far more effective tactic would be to enact a public service ad campaign on the Chinese mainland along the lines of those 'smoking causes impotence' posters featuring half-naked and fully-annoyed women sitting up in bed with their arms crossed. Given that the average Chinese male appears almost pathologically obsessed with consuming traditional Chinese medicine potions made from exotic and endangered animals that allegedly boost virility, the suggestion that simply butting out would help stiffen their willies would seem a far simpler solution. Plus, the money they'd save could be spent on a hand of baccarat, which could earn them big bucks, the presence of which we're reliably informed is a serious aphrodisiac for most women.
Comments