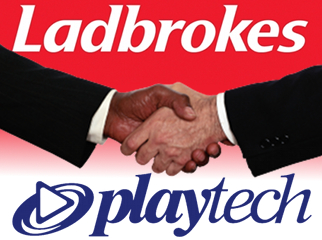 UK bookies Ladbrokes have inked a licensing deal with online gambling software outfit Playtech to give Lads' languishing online presence a sorely needed boost. Lads has been roundly criticized by investors for being slow to take full advantage of the online sphere, as evidenced by the 39% drop in profit Lads' online division suffered last year. The five-year deal will take effect May 1 and the first tangible result will come in Q3 2013 when Ladbrokes' web and mobile customers gain access to Playtech's library of over 200 online casino games via a new 'Vegas' tab.
Under the deal, which Lads' CEO Richard Glynn insists is a "100% Ladbrokes business" and not a joint venture, Playtech will earn royalties from licensing its software, as well as a 'success fee' contingent on boosting Lads' core earnings by 27.5% between Dec. 31, 2012 and Dec. 31, 2017. Playtech can earn early installments of this fee if core earnings increase by £35m, £70m and £100m in any of the first three years of the deal. Should the boost to digital earnings exceed £100m in 2017, Playtech will earn a one-off bonus equal to 75% of the excess, subject to a cap of £50m, payable in 2019.
Playtech CEO Mor Weizer said this 'no win, no fee' arrangement "reflects our confidence in accelerating Ladbrokes' Digital revenue growth." Weizer said 2017 was chosen as the basis for calculating the fee to allow sufficient time for the collaboration to get up to speed. At least 25% of this fee is to be paid in Lads' shares, and Playtech can opt to receive 100% of the sum in shares. (Watch it, Lads, you're being hollowed out.)
Playtech will also provide Lads with digital marketing and advisory services via PT Turnkey Services Ltd., the company Playtech acquired from its founder/largest shareholder/convicted stock fraudster Teddy Sagi in 2011 (just one of a series of analyst-worrying deals in which Playtech paid big to acquire a Sagi-held company). This time it's Lads who are acquiring Sagi's hand-me-downs, having agreed to pay £850k to absorb 40 Playtech CRM and digital marketing staff currently working at The Nation Traffic Services Ltd. These employees will now operate under the banner of Ladbrokes Israel.
On a call with analysts discussing the deal, Weizer said he expects Ladbrokes' poker offering will eventually shift from its current home on the Microgaming Network to Playtech's iPoker network. Weizer said he expects Lads and Playtech's products to be fully integrated by the end of 2014, "but certain things have to happen before then between Ladbrokes and its current suppliers." The unification of a single gaming and sportsbetting wallet is expected in H1 2014. The deal does not extend to Ladbrokes' new Betdaq betting exchange acquisition, nor Lads' operations in Spain and South Africa, although Weizer said this was "subject to further discussions."
The Lads/Playtech deal comes two years after the companies were first rumored to be teaming up. Those discussions were quashed after Lads' high-street rival William Hill filed an injunction to prevent its partner in the William Hill Online joint venture from hopping into Lads' bed. Just two weeks ago, Hills chose to pay £425m to rid itself of its WHO minority partner. Hills and Playtech had a tumultuous relationship, and Hills' CEO Ralph Topping had not been shy in expressing his frustration in dealing with Playtech execs such as Weizer. Only time will tell if Lads' experience proves any less frustrating.