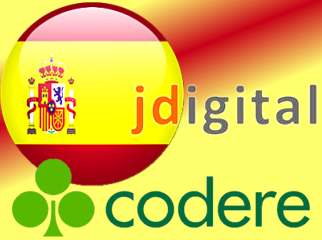 Spanish trade association Jdigital believes the nascent Spanish online gambling market is overtaxed, overcrowded (although getting less so by the day) and too restricted in its offering. Despite these drawbacks, Jdigital's 2012 annual report notes that the regulated market generated €88m in gross gaming revenue since the official starting gun went off last June and is growing at a monthly rate of 10%. As such, Jdigital believes the market will be worth €225m in 2013 – €250m if operators can convince the government to allow slots and betting exchanges.
However, Jdigital says the nation's online gambling licensees boosted their marketing efforts 38% from pre-regulation days, spending a combined €125m to make their voices heard above the crowd. Throw in the state's 25% profits tax and Jdigital believes operators not named PokerStars, Bwin.party and Bet365 "cannot yet achieve acceptable performance limits to keep the business in the country."
CODERE'S TRANSATLANTIC TILT
The only mention of online gambling in Spanish operator Codere's annual report was a statement that it had been awarded a license, so we'll have to wait a year to learn how that troubled venture performs. In the meantime, Codere's overall revenues grew 21.1% in 2012, mainly on the strength of their Argentine and Mexican operations. Codere enjoyed earnings of €305.2m (+5.4%) on revenue of €1.66b, but the company posted a net loss of €104.6m in 2012 thanks in part to a €75.2m asset impairment in its home market.
Codere is increasingly dependent on the western hemisphere, with Argentina accounting for 39% of Codere's overall revenues and 48% of earnings, while Mexico claimed 26% of revenues and 31% of earnings. On the other side of the Atlantic, Italy contributed just 16% of revenues and 10% of earnings, while Codere's home and native land anted up just 9% of revenue and 5% of earnings.
In Mexico, Codere continued its consolidation of the ICELA racing, gambling and entertainment business, which helped push revenues up 50% to €437.2m and earnings up 67.8% to €103.2m. In Argentina, Codere's installed gaming terminal base increased 11% but a new smoking ban dragged earnings down 2.8% to €160.6m. In November, Codere renewed five gaming licenses in Buenos Aires for another 15 years. In Colombia, Codere opened its fourth casino in Bogota in July and the long-delayed Carrasco Hotel & Casino is set to open in Uruguay this month. Seriously, this time they mean it.
In Italy, revenue rose 16.4% with the number of video-lotto terminals (VLTs) in operation rising 20% and amusement with prizes (AWP) machines up 34%, the latter due to the acquisition of operators like Dalla Pria Services, but average revenue per machine fell in the sluggish Italian economy, pushing earnings down 21.5%. Codere CFO Ricardo Moreno Warleta expects "a continuation of the negative trends" in Italy, including a significant rise in local taxes this year.
A similarly dodgy economy in Spain dragged revenue down 6.9% and earnings down 18%, despite wagering revenue rising 69% thanks to the addition of 467 new betting outlets in Valencia and 133 more primarily in Madrid and the Basque Region. Codere hopes to add another 300 or so in Galicia and Murciaby the end of 2013. As for that asset writedown, Warleta described it as a non-cash charge to earnings "taken in the context of the macroeconomic crisis … as well as the continued deterioration of the business." Olé…