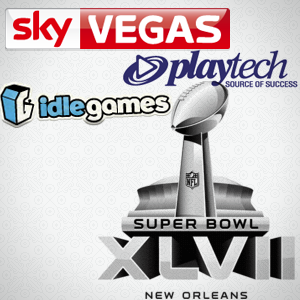 Idle Games is trying to gain a footing in the social gaming landscape and as part of its promotion via its free-to-play social game, Fresh Deck Poker, the social casino startup is prepared to give one of its poker players two free tickets to Super Bowl XLVII. All they have to do is play in any of Fresh Deck Poker's single-table, Sit-n-Go tournaments. For every hour until the 29th, one player will be chosen at random where their names will be entered into the Grand Prize Drawing set for January 29. All in all, 168 poker players have a chance to win free tickets to watch the SuperBowl at the Louisiana Superdome in New Orleans next week. The promotion is a way for Fresh Deck Poker to not gain some players on their site, but also live up to their promise of not only offering thelargest free-to-play poker tournaments on Facebook and mobile, but also dish out real prizes for its players.You gotta give them some credit; they're first salvo in this prize giveaway strategy is a doozy. Tickets to Super Bowl XLVII. Can't get any more exciting than that.
Meanwhile, Playtech, known for being one of the premier online gaming solutions providers, is set to launch their latest offering to the online slots world: Cowboys and Aliens. The addition of this new game adds to Playtech's growing portfolio of online slots games. It's also the latest in a series of transactions that Playtech has been involved in since the calendar flipped to 2013, proving that they didn't earn their reputation as one of the industry's best by accident. In addition to Playtech, SkyVegas is also using this week to launch its own set of new games, particularly two titles that come with some pretty impressive bonuses. The first one, called Grand Monarch, is a buttefly-themed IGT title that comes with a bevy of gaming options, highlighted by a free spin bonus that can lead players to win as much as £250,000. The second SkyVegas launch takes Bruce Lee to the company's own Mobile Platform where players can enjoy a classic five-reel, 50-line slot that also comes with its own unique options, including a Free Spin Bonus Round that features the Enter The Dragon Bonus where your free spins don't count down.
With increased growth expected to be one of the biggest advancements in the world of online gaming this year, you have three companies that are determined to get off on the right foot. Two of them already have a presence in the industry; the other is determined to make its own mark. Three different launches with pretty similar goals. Give credit to Idle Gaming, Playtech, and SkyVegas for getting their 2013 off to a good start.
Comments