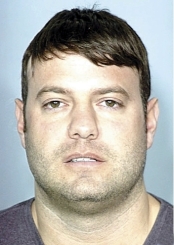 Former Cantor Gaming sportsbook director Michael Colbert will plead not guilty at his initial court hearing in New York later this month. The Las Vegas Review-Journal reports that Colbert will enter the plea in a case that sees him up on four charges of alleged illegal bookmaking. Colbert didn't speak at a preliminary hearing on Thursday in Las Vegas with his next appearance in front of a judge scheduled for New York on November 29.
The man is charged with enterprise corruption, conspiracy to operate an illegal gaming enterprise and three further counts of money laundering. Alongside him in court were other alleged accomplices including Jerry Branca, Steven Diano, Joseph Paulk, Paul Sexton and Ian Mandell, with Brandt England and Kelly Barsel in New York and unable to appear.
All of the attorneys involved have so far declined to comment on the case and the Nevada Gaming Control Board's deputy chief of enforcement, James Taylor, added that they are still looking into potential regulatory violations by the Cantor Gaming, the company that Colbert was most recently employed by.
Agents are still aiming to get to the bottom of everyone's role in the sportsbetting operation with prosecutors alleging that Sexton was a money collector whilst Diano, Paulk, Barsel, Branca and England were all alleged bookmakers. England is also accused of being a money collector/agent. Pinnacle Sports, the company that has been linked to the case, distanced themselves from the case by stating the case only involves the founders and the not the company itself.