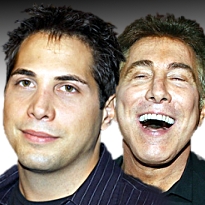 At this point, Joe Francis likely wishes Steve Wynn really had hit him over the head with a shovel and buried him in the desert. On Monday, a Los Angeles Superior Court jury returned its verdict in the defamation suit the Wynn Resorts chairman brought against the Girls Gone Wild producer for making the shovel allegations. The jury determined that Francis had indeed dragged Wynn's good name through the dirt and awarded Wynn $20m in compensatory damages. That's $8m more than Wynn's own lawyers had requested in their closing arguments to the jury on Friday. Worse, the jury determined that Francis had acted with malice when he made the allegations, necessitating a second phase of the trial in which they will consider awarding punitive damages. That hearing will get underway on Tuesday.
Francis' defense was sunk last week when music producer Quincy Jones took the stand and denied having told Francis of Wynn's alleged threats. The Francis/Wynn brouhaha began in 2007 when the soft-porn producer ran up a $2.5m marker at a Wynn Resorts casino in Las Vegas, yet only paid Wynn $500k. When Wynn Resorts pressed Francis to honor his debts, Francis made the allegation about Steve and the shovel. That launched a flurry of back and forth lawsuits, most of which Francis has come out on the losing end, including a $7.5m judgment against Francis in February.
Neither Wynn nor Francis attended Monday's court proceeding, but Wynn's attorney Barry Langberg took pleasure in telling the media that Francis "apparently thought that he could intimidate [the Wynn casino] and Steve Wynn into backing off collecting the legal debt." However, knowing Francis, he'll likely appeal the verdict. Francis told TMZ the judge had erred twice: first, in allowing the jury to consider comments Francis made about Wynn on the Good Morning America television program, and second, for allowing Wynn's lawyers to introduce comments made during a previous hearing for a restraining order Francis was seeking against Wynn, which Francis believes should have been considered privileged communications.
So Francis' attempt to weasel out of a $2m gambling debt means he now owes Wynn and Wynn Resorts around $30m, and that's before any punitive damages are added to the pile, plus interest, as well as Francis' own legal fees, which would be considerable. Francis may keep doubling down on this bet, but honestly, he's just increasing the size of his eventual reckoning. Far better to do what Quincy Jones suggested on the stand last week: "If you lose the money, pay the money."