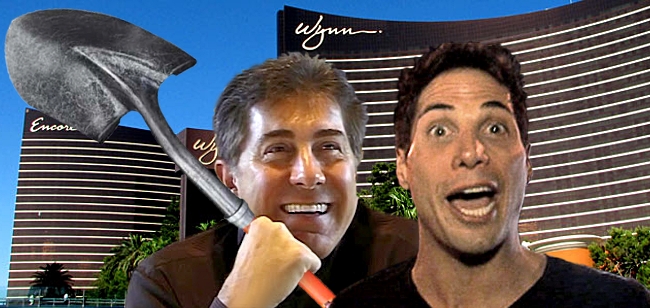 The website of UK tabloid the Daily Mail – which ComScore ranks as the second most visited newspaper website, behind only the New York Times – posted a rather unflattering article of casino magnate Steve Wynn on Friday, touching on his alleged mob ties, the various unsavory aspects of his personal life and his really, really bad hair. Wynn's UK profile has risen dramatically ever since those pictures of Prince Carryin' On's escapades at the Wynn Encore in Las Vegas went public. The Mail's article also repeated unsubstantiated allegations that there is much more salacious news yet to emerge regarding Harry's high-jinx – including the suggestion that persons unknown were snorting cocaine in Harry's $8k/night VIP suite.
On Thursday, RadarOnline reported that hookers and "a known cocaine dealer" were among Harry's party guests the night the photos were taken, and that drugs of various potency were being consumed within the suite's confines. Hardly surprising then, that Steve has reportedly ordered Wynn staffers to shut their pieholes or he'd personally see to it that they'd never find gainful employment in Vegas again. While that sounds harsh, compared to some of the other threats Steve has been accused of making, Wynn staffers should consider themselves fortunate.
Steve is currently suing softcore porn producer Joe 'Girls Gone Wild' Francis for defamation after Francis claimed Steve had threatened to hit him over the head with a shovel and bury his body in the Nevada desert over a $2m casino marker that Francis wouldn't honor. Francis claimed to have come by this info via his next-door-neighbor, famed music producer Quincy Jones, who allegedly received numerous emails containing said threats from Steve. Francis told ABC News that the emails were written "in all caps, and then exclamation points – like a crazy person's email … I was afraid for my life … [Steve] made it very clear that he wanted to kill me."
Steve has denied sending any such emails and had his attorneys subpoena Quincy to testify to that effect in court. However, the New York Daily News has since revealed that Quincy won't be testifying after his doctor stated that doing so would endanger Quincy's life. Quincy told Judge Joanne O'Donnell that the mere sight of the subpoena had given him "increased anxiety, heart palpitations, and difficulty breathing." Quincy's doctor followed up by saying that requiring the 80-year-old music legend to testify "will only exacerbate his current deteriorating condition." Judge O'Donnell relented and told the Thriller producer to Beat It.
While some are saying that Quincy's absence does serious damage to Francis' defense, we're not so sure he's licked just yet. Knowing Francis, he'll now claim that since the mere notion of sharing a courtroom with Steve Wynn is enough to cause a tough old bastard like Quincy to suffer heart palpitations, that proves Steve really is an unpredictable psychopath who should be kept far away from gardening tools. If that sounds beneath Francis, then you haven't been paying attention. It's why most of the court decisions so far have determined that Francis is the litigant most adept at shoveling it.
Comments