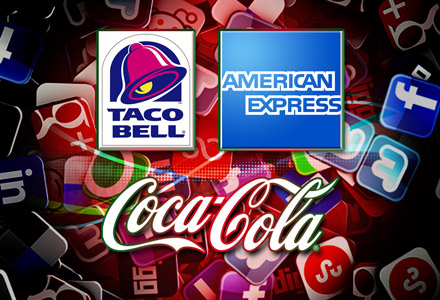 In 2006, the word 'hashtag' could have referred to anything from a specific kind of breakfast potatoes to a label your anti-establishment baby boomer uncle used for his potent, sweet-smelling herbal fix. Since then, however, technology has advanced in such exponential proportions that these days, some of us are so attached to our smartphones, we catch ourselves hashtagging our own thoughts as if we've already tweeted them ("Hmm, I think I'm skipping the #shower today." #likeaboss).
See, no matter how the world's last remaining neo-Luddite purists continue to shun it, the habit of social media has driven its stake deep into the lives of humans. Between the ever increasing amount of time we spend online and the way that we treat our Facebook and Twitter pages not only as extensions of our identities but also as a means to interact with each other, more and more companies are following suit and joining the virtual soiree, eager to increase awareness, build loyalty, and boost sales.
Still, you can't just set up a social network account, rig it on auto-feed spewing bi-hourly news updates, and then call it a day. To win the crowd over via social media, you've got to peel your back off the wall and give everyone an amazing time. Need some cues putting your kegger together? Here are some social media heavyweights that put all the kids that got voted most popular in high school to shame, and a few lessons we can take from their game.
Know your audience.
Fast-food giant Taco Bell's approach to social media illustrates perfectly what it means to have a strong grasp of your target market. The brand's multi-platform online marketing initiatives, which are founded on nifty, well-researched campaigns, excellent content, and honest-to-goodness interaction, work specifically because the company understands the interests, needs, and behaviour of its core demographic.
Consider their creative use of Twitter, for example. Known for its tongue-in-cheek, sometimes irreverent jokes, arguments with fake celebrity accounts, and swagger-soaked responses to jabs from detractors, Taco Bell's always-entertaining Twitter page boasts a following of over 195,000 users, many of whom regularly mention the brand in their tweets specifically because it replies both hilariously and promptly.
With a distinctly sassy, good-natured Twitter voice that appeals to both its main target customers and most other demographic brackets, Taco Bell is fortifying brand affinity in a way that people appreciate.
Not only that, Taco Bell also leverages its beefy Twitter profile to provide timely service to disgruntled customers, announce promos and discounts, rollout fun, innovative campaigns, and even defend its own reputation in the midst of pr crises – all in all building customer loyalty.
Focus on what your audience wants and needs.
For years, credit card leader American Express has dominated corporate social media with its cutting-edge, tailor-made campaigns. At the SXSW last March, it launched Sync for Twitter, awarding couponless savings on multiple brands to cardmembers who linked their AmEx card to their Twitter account and tweeted specific hashtags. By securing the last half hour of wi-fi airtime on flights arriving in Austin, Texas in time for the festival and streaming plugs offering Jay-Z concert tickets to the first 700 customers who completed the sync, American Express harnessed technology, commerce, and culture to engage their music-loving customers. This resulted in 156,075 tweets from 25,653 users and over $7 million in sales.
Still, hip retail shoppers aren't the only bracket to which the company has endeared itself. Seeing how small businesses – also a vital portion of American Express's clientele – get pushed to the wayside come the annual Black Friday and Cyber Monday craze, American Express founded Small Business Saturday in 2010. Held every last Saturday of November in support of neighbourhood mom-and-pop establishments, Small Business Saturday furnishes local merchants with business tools, DIY promotional material, and free Facebook advertising paid for in full by AmEx while offering incentives for shoppers to buy local. Debuted in 2010, Small Business Saturday's Facebook page amassed 1 million likes within its first three weeks.
At the core of these grand social media orchestrations is American Express' commitment to customer service. In fact, it first ventured into the social media sphere on Twitter under the handle @AskAmex, with the primary aim of servicing its cardmembers and merchant questions, complaints, and requests.
"Our mission is to be everywhere our cardmembers and merchants are," says SVP of digital partnerships and development Leslie Berland. "To engage with them, service them, deliver unique value that's shareable and create digital experiences that surprise and delight."
And it seems this techno-social quotient has been integrated into the company's bloodlines as well. "The digital transformation occurring at American Express cuts across many business units and it has to because of the breadth and depth of our business," Berland explains. "From customer service to merchant services to our entertainment and travel business units, to corporate affairs, as well as our newly formed digital partnerships and development team, social media is a company-wide initiative."
Encourage participation.
Flanked previously by false starts and foiled attempts, seasoned FMCG company Coca-Cola had been slow to leap onto the social media bandwagon. The brand found itself in a prime spot for consumer-centered interaction, however, when in November 2008, a Facebook page devoted entirely to the beverage was brought to their attention.
Created by Los Angeles based Coca-Cola fans Dusty Sorg and Michael Jedzejewski in August 2009, the fan page garnered likes from 3.3 million Facebook users and was second in popularity only to Barack Obama's. When a Facebook security policy November of the same year required that Coke either shut the page down or take full control of it from its creators, Coke got in touch with Sorg and Jedrzejewski, flew them to the Atlanta headquarters, and instead proposed a collaborative, shared page administration between themselves and the two fans.
From then on, Coca-Cola adopted a "fans first" strategy for its social media marketing. In 2010's "Expedition 206" for example, it chose three of its fans to travel the world for 365 days as Coca-Cola brand ambassadors tasked to find out what made people around the world happy. Sharing its globetrotting ambassadors' blogs, tweets, interviews, photos, videos, and experiences from the trips, Coke brought its "Open Happiness" tagline to life and doubled its Facebook fan count from 10.4 million to over 22 million.
Coca-Cola's fan-focused crowdsourcing approach does not end with its huge-scale marketing drives alone. On its Facebook page, the company consistently keeps the spotlight on its fan community. Most of its own posts are questions like "Where have you had a Coke lately?" or "What's your favourite time of day to enjoy an ice-cold Coca-Cola?," while its albums brim with photos, videos, and input from their fans.
"Campaigns based on earning sustainable relationships leverage the existing audience and grow it for future use," former Coca-Cola global interactive marketing head Michael Donnelly has said. "We will be everywhere our consumers are in an authentic, member-of-the-community, non-big brand way."