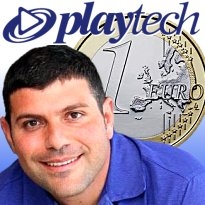 On Tuesday, online gambling software outfit Playtech announced further details of its deal to license social gaming and real-money mobile gambling software from a firm owned by Teddy Sagi (pictured right), Playtech's founder and its largest shareholder. For licensing the companies – cited as Skywind Holdings Ltd. and believed by eGamingReview to comprise CTXM and Viaden – Playtech will pay Sagi €6m a year plus 20% of the revenues generated by the social gaming offerings. Playtech will not pay Skywind/Sagi royalties on the revenues it earns from Skywind's real-money gambling software.
In the statement released by Playtech, Skywind was described as having more than 150 developers working on social and mobile games such as Slotsfarm and Raminoz, with a monthly active user base of 1.5m. CEO Mor Weizer said the deal represented "a cost-effective entry into social gaming," but analysts were dubious, noting that social gaming has ultra-thin margins, and surrendering 20% off the top doesn't leave much wiggle room. Playtech's UK subsidiary has also entered into a 10-year lease in which it will pay Sagi £750k/year to rent his office space/apartment complex in London's Camden Town area. Sagi will also receive the handsome sum of €1/year for acting as an advisor to Playtech, although the company claims it is "not obliged to involve Mr. Sagi in any matter."
Both the software and property deals were originally announced as outright purchases, but were changed to license/lease agreements after market watchers expressed concern over what appeared to be the latest in a series of sweetheart deals involving Playtech acquiring Sagi-related companies. Analysts again expressed concern over the lack of detail in today's announcement, with Peel Hunt's Nick Batram saying the news didn't do enough to "help allay the fears of those concerned about corporate governance." Indeed, Hunt said the deals "appear to cloud the picture further." In response, a Playtech spokesman issued a statement that the announcement "meets the disclosure standards of the main market." AIM-listed Playtech is hoping to make the move to the main market of the London Stock Exchange in the not too distant future.
Playtech also announced it would offset the cost of the Skywind license fees by entering into a software-licensing agreement of its own with an unnamed "established gambling operator" in the near future. CardPlayer reported that Playtech has thrown its hat into the ring for a Nevada online poker tech provider license under the guise of WHG Ltd. Playtech may have been encouraged by the fact that William Hill – Playtech's joint venture partner in William Hill Online – received a favorable nod from Nevada gaming regulators last week regarding its 2011 acquisition of Nevada-based sportsbooks, However, the roughest part of Hills' grilling by regulators was over its relationship with Playtech, in particular Sagi's mid-1990s stint in an Israeli prison for stock manipulation, and the Gaming Control Board promised it would have more questions re Sagi when Hills' online poker application was given a hearing. The GCB went as far as to suggest it may require Hills to divest itself of its ties to Playtech to win their approval.