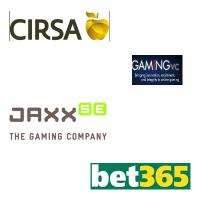 Spanish gaming industry group Cirsa saw an unprecedented 25th consecutive quarter of growth in the first quartile of the year. Operating profit for the business increased 11 percent to €77.4 million with operating income up 2.1 percent to €448 million. Latin America and Italy provided the growth to spur these numbers on. The results come as reports in the Spanish press suggest Cirsa is ready to enter a head-to-head bullfight with 'EuroVegas' developer Sheldon Adelson. Cirsa are exploring the economic viability of a similar project that would be situated in Catalonia and it's their firm belief the market shouldn't be "exclusive to anyone". Not even Sheldon!
GVC Holdings posted a huge increase of 168 percent in first quarter turnover as their decision to enter Turkey already looks like paying dividends. €279,000 was the group's total turnover with B2B, including the East Pioneer Corporation in Turkey, contributing €179,100 per day. Prior to the deal B2B was just €5.8k per day. B2C turnover increased 7 percent to €105.2k per day with Latin American and Spanish arm Betboo seeing sports wagers per day rise from €45.8k to €115.4k. Sports net gaming revenue was up from €4.2k per day to €5.7k with gaming net revenue rising from €16.1k to €21k. Chief executive Kenneth Alexander added: "Whilst economic conditions in Europe continue to be volatile, we remain cautiously optimistic for the year. The Group has today paid its shareholders an increased dividend of €11 cents per share, compared to the €10 cents per share GVC paid in 2010."
JAXX SE shareholders have voted unanimously to change the company name to mybet Holding SE later this year. A shareholders meeting agreed to the proposal and it will reflect the group's new focus on sports betting, casino and poker. The changeover is expected to take place in July 2012 and includes the launch of mybet.de, mybet.it and netbet.es.
Bet365 has signed a deal to sponsor ITV's coverage of the French Open. Action starts on Sunday and will see the bet365 logo screened throughout the 15 days of the tournament. According to The Drum ITV Commercial, Drummond Central and Republic of Media negotiated the contract.