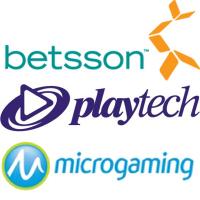 Swedish firm Betsson saw sportsbook contribute to a strong first quarter of the year. B2C sportsbook turnover rocketed from SEK146.7 million last year to SEK645.5m this year as gross profit across the same sector hit SEK44.6m, up from SEK14m. It meant operating income increased 32 percent to SEK174.1m with revenue showing a rise of 28 percent to SEK536.1m.
CEO Magnus Silfverberg commented: "Betsson is strengthening its position prior to the European Championship in Football through another acquisition which adds more Sportsbook players. This adds to a Sportsbook already undergoing strong development, shown by the first quarter growth of 48% in total Gross Turnover."
It wasn't all good news as their Gunner Gaming venture has yet to become the cloud with the silver lining they had hoped. "We are working on the Gunners Gaming partnership to get it up to speed – it's still in the early phase as we launched it last autumn, and its developing but there is a lot more to do before it starts developing significant revenues," Silfverberg told an analysts call, according to eGR.
The teething problems mean B2B sportsbook gross profit was down from SEK90.2m to SEK63.2m.
Playtech has made two acquisitions to continue their push into the social gaming arena. eGR report the firm has taken software supplier CTXM and a 20 percent stake in Viaden Gaming, paying an estimated €95 million to their very own majority shareholder Teddy Sagi, who owns CTXM and the stake in Viaden. Two anonymous executives from the firm confirmed the CTXM transaction and the two deals were completed months ago.
Microgaming has unveiled a new suite of HTML5 games. To coincide with their sponsorship of this week's mGaming Awards they launched 11 games in the new format with Tomb Raider, Thunderstruck and Mermaids Millions slots amongst them. In addition there are a number of other card-based games on offer.