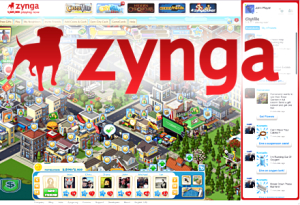 After first dropping hints last October, social games developer Zynga has announced the debut of a standalone "platform for play" site at Zynga.com. The public beta launch is set for later this month, and will feature five games to start: CastleVille, CityVille, Hidden Chronicles, Words With Friends and Zynga Poker. Zynga's Manuel Bronstein said it was a "matter of time" before the Zynga.com platform gets its mobile equivalent. But is hanging out its own shingle part of Zynga's stated goal of launching a real-money online gambling site? At the very least, it would eliminate the need to seek Facebook's approval, so it definitely can't hurt.
To date, the chief criticism of Zynga's business model has been its over-reliance on Facebook, and while Zynga isn't exactly cutting the cord, the Zynga.com launch does start the company down a more self-reliant path. Zynga personnel are stressing the new site isn't a complete break from the mother ship: users will still need to log in with a Facebook ID, games will still be updated across both platforms, in-game purchases will still require Facebook Credits and Zynga will continue to pay Facebook its 30% cut of revenues – although Zynga would now find itself in a better bargaining position when its rev-share agreement with Facebook comes up for renewal in May 2015. Facebook currently derives about 12% of its total revenues from Zynga.
Pushing the independency theme further, Zynga.com users will be able to connect with players via the games without having to add these players to their Facebook network. Zynga CTO Cadir Lee described these zFriends as a "superset" of a user's Facebook network, while others see the tentative start of a standalone social network. Zynga.com players will be able to create their own Zynga profiles and generate unique screen names, or Z Tags, unlike Facebook's requirement that players use their real names.
Also unlike the Facebook experience, Zynga.com players will be able to chat in real-time without pausing the games. More importantly, advancing through the games will be a swifter process on Zynga.com than via Facebook through the use of the 'social stream' – a live feed of in-game requests from other players that allows the exchange of virtual goods in real-time. This last feature will have particular appeal to the most active players or 'whales' that also happen to be the most avid purchasers of virtual goods, pulling them deeper into the Zynga.com fold (and, by extension, away from Facebook).
Zynga also announced that outside developers have been invited to roll out games on Zynga.com. Row Sham Bow, Sava and MobScience are among the developers who have thus far accepted Zynga's invitation. An unidentified source told Bloomberg that Zynga will take a 30% cut (after Facebook takes its 30% off the top) of the revenues generated by these games, leaving the original developer with a 49% share. Speaking of shares, Zynga stock closed the day up almost 10%. MoneyVille…