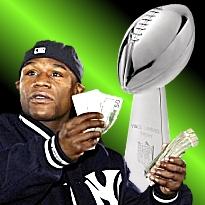 Beat your baby mama (in front of your babies): lose $2,500. Beat the spread: cha-ching! On Thursday, the Las Vegas Review-Journal's Norm Clarke reported that boxer Floyd Mayweather Jr. placed a million dollar bet that the New England Patriots would beat the Denver Broncos in the highly anticipated Tom Brady/Tim Tebow faceoff on Dec. 18 (mere days before Mayweather was sentenced to 90 days in jail for domestic battery and harassment).
Prior to his conviction, Mayweather wasn't shy about taking to his Twitter feed to provide visible evidence of his sports betting prowess at the M Resort in Las Vegas, but he's yet to acknowledge his anti-Tebow triumph. (We don't need to see a betting slip – a shot of Floyd 'Tebowing' outside the M would suffice.) Mike Colbert, Cantor Gaming sports book director at the M Resort, declined comment on the rumor, stating only that the 'Money' man was "a valued customer who frequents the books quite often." Also, the earth is round, water is wet and Calvin Ayre is clairvoyant.
Meanwhile, Jockey International has placed a $1m wager (of sorts) that Tebow will hoist the Vince Lombardi Trophy this February. The underwear manufacturers, who just happen to count themselves among The Chosen One's sponsors, will give away $1m worth of nut-hugging cotton to 40k customers should Tebow and the Broncos win the Super Bowl. Of course, there's the small matter of Denver having to beat Kansas City this weekend just to make the damn playoffs, but Jockey appears confident that Jehovah won't upset their marketing push.
Whichever teams ultimately end up doing battle in the Super Bowl, they will be making mobile technology history. The National Football League and broadcaster NBC have announced that the 2012 big game will be the first to be streamed online and to mobile phones. Viewers (and bettors) looking for extra camera angles, in-game highlights and live stats will be able to consult the NFL and NBC websites, while US-based mobile users can also utilize the Verizon NFL Mobile app. NBC's Sunday Night Football program has been available online for four years now, but its average 200-300k viewers are barely 1% of the 21m who tune in via their traditional boob tubes. However, NBC has found that not only is the stream not cannibalizing the TV audience, it's actually complementing the terrestrial feed, as viewers continue to enjoy the big screen benefits while simultaneously seeking out the extra features available online. Extra viewing options will also come in handy during your Super Bowl party when your drunk buddy tries to Telestrate the last play on your new flat screen using his finger and a bowl of melted Cheese Whiz.
Comments