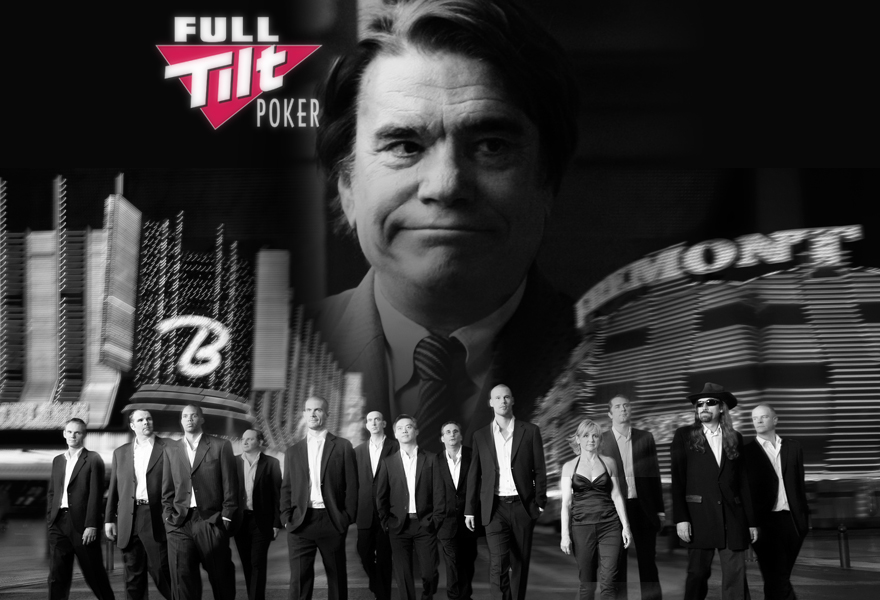 The news is out: French businessman Bernard Tapie, the former owner of Adidas and Olympique de Marseille, has made a deal with the US Department of Justice to buy Full Tilt Poker. All of the stories talk about the numbers ($80 million) and Tapie's assumption of the responsibility of paying back FTP's international customers. They also talk about how the DOJ has agreed to stop civil forfeiture proceedings and not to prosecute Full Tilt shareholders any further.
What the stories don't talk as much about is Tapie's motivation for buying this company at this point in its history. Just why is Bernard Tapie choosing this company and this moment as his opening into the online poker industry? Why didn't he just start up his own online poker room? Isn't Full Tilt a poisoned brand, especially since it owed so much money to so many players around the world? As it turns out there are no less than four solid reasons that make Full Tilt a solid play for Tapie.
The deal will allow Tapie to enter the US market. When news of the sale being finalized made the rounds on Friday, Attorney Jeff Ifrah told ESPN.com that the deal Tapie made to purchase Full Tilt Poker came with a permit from the DOJ to re-enter the American market if and when legislation to legalize and regulate online poker passes Congress. That's something that isn't likely to happen for PokerStars – or the other Black Friday companies, for that matter, if they can survive. Everyone knows the American market is the one that built the global online poker industry, and most believe a government license to operate in it is essentially an invitation to print one's own money. That's a pretty big leg up on the competition at a unique and unpredictable time.
Full Tilt is a distressed asset. Smart businessmen do well in an economy like today's by knowing what kind of distressed assets they can buy at bargain-basement prices and turn around later when things improve. (Poker aficionado and billionaire Andy Beal has made a career out of these sorts of deals.) For a businessman like Tapie with a history of snatching up underperforming companies and turning them around into profitability, as he once did with Adidas, the former second largest online poker room in the world could almost be seen as a perfect specimen. Tapie's $80 million price tag plus the debt to international players is much lower than the $330 million gap the DOJ claimed there was between FTP's accounts and what it owed players, so he is picking up a once highly profitable business on the cheap. Even if Full Tilt were never to fully regain its former status, it's still likely to pick up a decent market share just on name recognition alone; if it can do a good job of pleasing customers when it returns to business, it should be able to regain an even bigger slice of that former #2 market share. Then there's that guaranteed access to the largest poker market in the world within the next few years to consider. Those are some pretty big upsides and the opportunity to negotiate a price for the company gave Tapie a way to limit his downsides.
Tapie's personal history might keep him from earning a gaming license on his own. A former owner of the Olympique de Marseille soccer team, Tapie was convicted of fixing a 1993 match between his team and a minor competitor. Why did he decide he needed to rig matches against minnows in the domestic league? So Olympique could save its best players for the more important (and lucrative) continental Champions League matches. The team was stripped of its French league championship and in 1997 Tapie himself spent six months in jail, in addition to being banned from football. In a separate matter, Tapie was convicted of tax fraud over a luxury yacht. It's not hard to see how renewing Full Tilt's suspended license from the Alderney Gaming Commission after striking a deal with the US DOJ might prove a little easier than trying to get a new gaming license for a new operator from some other regulator who wanted to ask questions about rigging football matches and hiding yachts.
The Full Tilt software. In an industry where innovation wasn't always strictly necessary to turn a profit, Full Tilt stood out from the crowd early on by pushing the envelope. From the constantly shifting variety of tournaments, the addition of new poker variants and mixed-game structures, and the evolution of interface features to make playing the game easier, to the advent of new forms of the game like Rush Poker, always stayed on the cutting edge of software development innovations. Just Rush Poker alone could make the Full Tilt software itself much more valuable than any licensed or newly programmed client Tapie could used if he had started his own poker room instead of buying Full Tilt. (Plus there's always the possibility of creating taking over the Ivey Thunderdome tables and renaming them Tapie Thunderdome…)
None of this means Full Tilt is a slam-dunk for Tapie. There are still all sorts of things that could go wrong, so it's still a gamble. But given his personal legal history, his opportunity to negotiate a price, and the particular assets he gets in return for that price, Tapie probably couldn't have made a better deal starting from scratch.
Comments