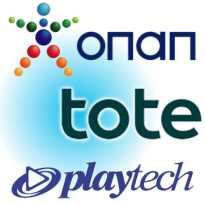 Greek state monopoly betting outfit OPAP recorded a 30.4% net profit fall in Q2 2011 vs. the same period last year, reflecting the economic turmoil the country has endured, deferred tax charges and the absence of a premier sporting event like the World Cup. Net profit amounted to €106.9m, on EBITDA of €154m (down 28% from 2010). EBITDA margin fell from 15.6% last year to 14.4% in 2011. Revenues were off 22% at €1.069b. Turnover on Kino and Pame Stihima games fell 16.4% and 25.8% respectively. Despite the company having shed 35% of its market value thus far in 2011, CEO Ioannis Spanoudakis expects the recent granting of an exclusive license to operate 35k video lotto terminals (VLTs) will "provide us with a much-needed visibility for the gambling business environment over the coming years."
Fresh off posting revenue and profit gains in H1, Playtech's CFO David Mathewson said his company may splash out as much as €100m on purchases and joint ventures. In a post-results conference call, Mathewson said that while the company has made no decisions on spending, it may do a little rejigging of assets in order to afford an(other) acquisition or two. CEO Mor Weizer echoed this theme, noting that the recent market slide has lowered the asking price of a few companies. Playtech has already made three acquisitions this year, most recently swallowing mobility specialists Mobenga.
The UK Office of Fair Trading (OFT) has decided to take a closer look at the recent sale of the Tote to Betfred. The OFT is apparently worried that the £265m deal (£150m up front and £115m over the next seven years) may result in a "substantial lessening of competition." The OFT is threatening to send the contract over to the Competition Commission for further study. Given that the sale happened back in June, we're sure Fred Done believes this is one horse that's already bolted the barn. Say, Sir Martin Broughton doesn't work at the OFT, does he?