The fledgling Epic Poker League has its first Main Event champion. David 'Chino' Rheem earned the Champion's Ring and $1m for topping the other five final tablers Friday night at the Palms in Las Vegas. Erik Seidel was runner-up, earning $604k, while the rest of the final table cashed as follows: Jason Mercier ($360k); Hasan Habib ($237k); Gavin Smith ($154k) and Huck Seed ($107k). Quoth the Rheem: "I'm proud to be the first Epic Poker League Main Event Champion. This league is setting a new standard for poker players and I'm committed to using this win as an opportunity for a fresh start."
The 'fresh start' Rheem referred to may mean different things to different people. When the main event first got underway, a chorus of voices piped up, detailing the casual manner with which Rheem regarded the repayment of personal debts (despite having racked up $5m+ in lifetime tournament earnings). Pokerstars Caribbean Adventure 2011 High-Roller champ Will Molson and 2010 WSOP November Niner Joseph Cheong claimed Rheem owed them $40k each for over a year now, while Tom 'durrr' Dwan would only specify that Rheem owed him as well.
World Series of Poker 2011 November Niner Ben Lamb, who'd earlier claimed that Rheem had neglected to make good on a WSOP prop bet, tweeted the following after Rheem's win: "Omg Chino won 1m and paid me my money (most people got 10% paid) I got all." "Just counted it!!! 100$ over and he has no chance to get it back" Similar victory lap tweets have yet to be issued by Cheong, Dwan or Molson, so read into that what you will.
Speaking of poker scoundrels, Lock Poker has already replaced their disgraced former Lock Pro José 'Girah' Macedo. Macedo was recently dismissed from the Lock Pro ranks following revelations that he'd rather brazenly cheated fellow online poker players. With the money freed up by Macedo's departure, Lock has inked Leonor 'Leo' Margets, the Last Woman Standing Cup winner at the 2009 WSOP Main Event. Lock CEO Jennifer Larson claims Margets is "brilliant, driven, incredibly talented and represents the brand perfectly." Of course, Larson said similarly nice things about Macedo earlier this year, but that's not Margets' fault.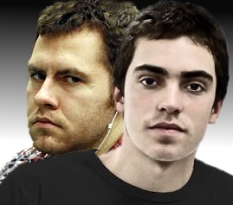 The Macedo scandal doesn't appear to be going away anytime soon. Subject: Poker's NoahSD and Vanessa Selbst's tandem interviews with Dan "jungleman12" Cates were posted in their entirety on Friday (full audio here), in which Cates initially denied, then finally confessed that he had also played on the 'SamChauhan" account on Lock Poker (the same account that Haseeb 'dogishead' Qureshi used to chip-dump $100k to Macedo that enabled Macedo to win the Bluff/Lock Poker Challenge). Speculation abounds that Cates used the account to lure in unsuspecting players who presumed an account down $100k was pretty fishy. Cates also admitted to playing on Macedo's personal Lock Poker account on 4-5 occasions and on Qureshi's/Macedo's 'Toshisan' account on iPoker as well.
In a Skype conversation (translated from Portuguese) following his disqualification from the Challenge for what Lock defined as multi-accounting, Macedo claimed that "Merge and Lock have run an investigation on every hand that I played … and they didn't find any proof of chipdumping whatsoever." A rather outstanding claim, given the patently obvious pattern of the dump in question. Of course, given all that's transpired, Macedo's credibility is currently non-existent, and there are still questions as to whether the former 'Portuguese poker prodigy' actually exists. A thread has been set up on the dedicated Lock Poker 2+2 forum to push Lock to release hand histories, log-in times and IP addresses for all Macedo-related accounts, but Lock has so far not responded, beyond directing players to Lock's initial "José's history" announcement.