Three weird and wonderful barrels including Red Dead Online poker restrictions, Tom Dwan and Daniel Cates teaming up, and Annette Obrestad is the makeup queen.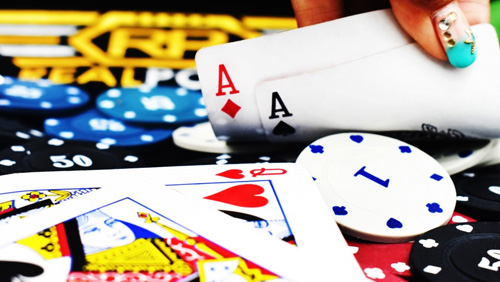 Life sucks.
Kids scream because their angel wings don't make them fly, wives won't have sex with you because there's no connection, and let's not get into the Game of Thrones finale.
Fortunately, game producers, Rockstar, have the answer: Red Dead Online. The online blockbuster allowing you to roam around the Wild West like Clint Eastwood has cut the beta umbilical cord, and despite a few hiccups, it seems an excellent way for you to disappear from your sucky life.
Those hiccups.
One of them seemed to be piles of dead horses. I know, weird. But the one that may bother readers of this little ditty is the inability to play poker on the game if you live in a region that's banned gambling.
Crazy, but true.
Playing poker in a saloon seems to be one of the most exciting games within a game, and players have gone to the Red Dead subreddit to complain about the lack of flops, turns and rivers.
Here's the official response from Rockstar.
We are sorry to let you know that the availability of Poker in Red Dead Online is dependent on regional laws and regulations and may not be available to all players. In short, poker won't be available in countries where online gambling is restricted or illegal. We apologize if this had caused any inconvenience.
It's an odd decision because you can't play poker on Red Dead Online for real money. The game allows you to spend fiat money to purchase gold bars used for microtransactions within the game, but you can't play poker with gold bars. Instead, you have to use virtual cash, and you can't exchange gold bars for virtual money, so gambling is impossible.
That hasn't stopped Red Dead Online from banning it, which makes the game more lifelike given half of the world has also banned it. Don't worry; you can still shoot the shit out of people.
Tom Dwan and Jungleman playing beer pong
Poker's grapevine was buzzing this week after Daniel "Jungleman" Cates released an Instagram video of him playing beer pong in tandem with Tom Dwan against Joe Stapleton and Peter Latham.
https://www.instagram.com/p/Bxp1DoIAJMP/
The poker world would love to believe that Dwan and the Jungleman are mortal enemies after Dwan pulled the plug on the "Durrr Challenge," but that doesn't appear to be the case.
The pair joined forces during the Triton Poker Super High Roller Series in Montenegro to play beer pong despite Dwan bailing from the challenge after 19,335 hands saw Jungleman jump into a $1,251,059 lead. If Cates were to finish up at the end of 50,000 hands, Dwan would have to pay him $1.5m, and if Dwan were to finish $1 up, then Jungleman would have to pay him $500,000.
With the money of that magnitude currently off the table, it wouldn't surprise you if Jungleman released an Instagram video of the pair boxing, and not beer ponging, but in my experience, in and around the Triton Series, the pair seem to be on good terms.
Dwan is a Triton Poker ambassador, and Jungleman is a two-time Triton champion, including picking up a win the day after that beer pong challenge.
Annette Obrestad vlogging with a difference
Annette Obrestad has won close to $4m playing live, and $2.8m playing online under the pseudonym 'Annette_15', and amongst her many successes includes winning the World Series of Poker Europe (WSOPE) Main Event in 2007 for £1m a day before her 19th birthday.
With the likes of Doug Polk, Daniel Negreanu and Andrew Neeme making vlogging chic, Obrestad is joining the army, but not in the way one would suspect.
The Las Vegas-based Norwegian star has created a YouTube Channel called 'Annette's Makeup Corner' where she delivers makeup tips. Obrestad has more than 8.5k subscribers learning about eyeshadow palette redesigns, lipstick product reviews, and how to apply magnetic lashes.