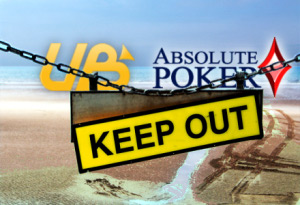 ✖ After word hit the mainstream press that Absolute Poker/Ultimate Bet were continuing to allow US players to play real-money games – something forbidden under the deal AP/UB signed with the US Department of Justice – comes word that the poker sites' geo-blocking filters are finally doing what the company claimed to have been doing for weeks. Jerry Bernstein, a partner at Blank Rome LLP, told the Las Vegas Review-Journal that "all measures have been taken to prevent US players from playing with real money." A spokesperson for the US Attorney for the Southern District of New York (which brought the Black Friday indictments) declined comment on whether AP/UB had previously been in violation of the terms of the agreement.
✖ The Nevada State Assembly has unanimously passed a stripped-down version of AB258, the online poker bill originally sponsored by PokerStars. (Read the latest version here.) All language that would have legalized online poker in Nevada was removed from AB258 pre-Black Friday, leaving only a plan to develop a licensing framework if/when the federal government passes its own online poker legislation. The bill expects Nevada's framework to be in place by January 2012, leaving them prepared to act (in the words of Assemblyman William Horne) "the day the [federal] law passes." The bill, which would require online operators to partner with an existing Nevada gaming license-holder or affiliate that has been in operation for over five years, now proceeds to the Senate, where it is expected to pass.
✖ Otto Guevara, former Costa Rican presidential candidate and leader of the Partido Movimiento Libertario (ML) political party, is coming under fire for receiving campaign contributions from Olman Rimola, the former head of Innovative Data Solutions, a call center linked to Absolute Poker. According to election officials, Rimola donated $180k to the ML party between 2008-2010. Guevara has denied knowing that Rimola had any connection to online poker sites. Inside Costa Rica reported that, on Wednesday, the Ministerio Publico raided ML offices, the office of a former ML campaign manager, and the home of Carla Gomez, described as a financier. According to Guevara, the authorities were "probably looking for receipts of such contributions." The Ministerio Publico is also seeking legal permission to peruse Guevara and ML's bank accounts. Assisting the Ministerio Publico are the country's elections tribunal, the money laundering unit of the Organismo de Investigación Judicial (OIJ), and US investigators, who are said to be 'working closely' with their Costa Rican counterparts.
✖ Chris Krafcik (@Ckrafcik) tweeted some interesting stats on internet gambling lobbying activity at the federal level in the United States. Overall, Chris estimates total federal lobbying spend related to internet gambling in Q1 2011 decreased by 4.6% from Q4 2010. However, the American Gaming Association, which represents the US land-based casino giants and just released its White Paper on internet poker, spent 24.6% more in Q1 than in Q4.
✖ Krafcik also reported that New Jersey Gov. Chris Christie cancelled a meeting with Sen. Ray Lesniak scheduled for this week. The Garden State politicians were supposed to discuss Lesniak's amended online gambling bill S490, after Christie vetoed the original version back in March.
✖ Black Friday will be a hot topic at the upcoming East Coast Gaming Congress, May 23-24 at the Atlantic City Convention Center. The panel, "Internet Gambling: The Game Changer" will feature Caesars Entertainment's Jan Jones, US Digital Gaming's Richard Bronson, the US Online Gaming Association's Melanie Brenner and New Jersey State Assemblyman John Burzichelli.
Comments