✖ This just in: Hell has frozen over. That's the only conclusion one can draw from the apparent change of heart expressed by previously unyielding anti-gambling Sen. Jon Kyl. The following message now appears on Kyl's official website:
"I have opposed efforts to legalize Internet gambling in the past because evidence suggests that it fosters problems unlike any other forms of gambling. Online players can gamble 24 hours a day from home; children can play without sufficient age verification; and betting with a credit card can undercut a player's perception of the value of cash — leading to possible addiction and, in turn, bankruptcy, crime, and even suicide.
Efforts to carve out an exception for games like poker, which many believe is a game of skill, may be considered later this year. Until I have the chance to review them, I cannot make a judgment about their merits; but I will consider them carefully as long as they leave in place the broader proscriptions against online betting."
While Kyl still found ways to recycle some of his 'online gambling caused the Black Plague' schtick in the first paragraph, the idea that he would "consider" any poker legislation for anything other than lighting his fireplace is noteworthy. Then again, he is retiring next year, so maybe he's just positioning himself for a lucrative spot on the board of Caesars Entertainment.
✖ Mesa, Arizona's Vensure Federal Credit Union, which was taken over by the National Credit Union Administration last week after Vensure's largest account was seized by the feds on Black Friday, has received a mixed verdict in a Washington courtroom. The Credit Union Times reports that US District Judge Rosemary Collyer rejected Vensure's motion for a temporary restraining order against the NCUA as well as a motion to expedite discovery in the case. However, Collyer ordered a hearing set for May 11 in which the NCUA's government lawyers will need to demonstrate why control of the credit union should not be returned to Vensure. In its filings, Vensure denied that the account seizure had left it without sufficient capital to sustain operations. It also claimed that the NCUA was aware that Vensure had been handling ACH transactions for poker companies, and that Vensure had already complied with NCUA instructions to knock off the funny business before the events of Black Friday unfolded.
✖ The latest Black Friday casualty is AB 258, the PokerStars-sponsored online poker bill that has been making its way through Nevada's legislature. Post-Black Friday amendments have rendered the bill moot until pro-gaming federal legislation is enacted, and have also stripped the bill of any mention of poker – focusing instead on the slightly less radioactive terminology of "interactive gaming." But poker could still fit into that category, according to the man who introduced AB 258, Assemblyman William Horne. Horne also told CardPlayer that when the Black Friday news broke, he "was surprised, and then I was feeling angry; not at the DoJ, but at PokerStars." Horne suspects that Stars had an inkling that the DoJ was closing in, but chose to keep Horne and his fellow Nevada statesmen in the dark. Horne claims he hasn't spoken to anyone at Stars since Black Friday, as he's "sure they have bigger fish to fry right now."
✖ Analysts at Wall Street ratings agency Moody's are on record as saying that hopes of any pro-poker legislation at the federal level are dead for the time being, although action at the state level may yet be possible. Moody's VP Peggy Holloway admitted that the DoJ "has taken a hard line. However, there appears to be enough ambiguities in the federal law that many legislators and casino operators are convinced that online gambling legislation can be successfully implemented." Even so, Holloway doesn't expect any US residents to be actually playing a state-approved cash game for several years.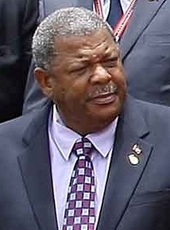 ✖ Antigua's Prime Minister Baldwin Spencer (pictured right) spoke at the summit being held in St. John's to discuss Black Friday and its relation to Antigua's ongoing struggle to get the US to comply with the World Trade Organization's pro-online gambling rulings. Spencer claims that US efforts to kill the online gambling industry have cost Antigua millions of dollars – both in loss of revenue to Antigua-based businesses and the Antiguans in their employ, plus the legal costs of fighting the US' endless WTO appeals. Spencer noted that in the late 1990s, gaming-related businesses employed over 3,000 people in Antigua, contributed 6-8% to the nation's GDP and earned the government US $7.4m in annual license fees. Today, the number of workers drawing gaming salaries has dropped to 440 and license fee revenues have dropped to less than $1m.
However, Spencer was keen to stress that he was not demonizing America. "Our quarrel with the United States is not a moral or political issue, but one of economics … the current actions of the United States is hurting our small economy, which is struggling to survive not only in a competitive world as it relates to trade, but during the worst economic recession experienced by mankind in over 50 years." Spencer concluded his remarks by posing the question: "Has the time come for Antigua and Barbuda to commence its fight outside of the WTO? This we must consider and consider seriously. The ball now is in our court. All options are now on the table."