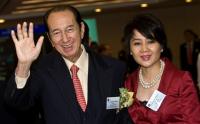 Macau's top gambling regulator has decided it best to stay at arm's length whilst the squabbling continues over who gets control of Stanley Ho's estate.
Comments come from the Gaming Inspection and Bureau director Manuel Joaquim Das Neves after Mr Ho had earlier this month invigorated a lawsuit against two of his daughters who haven't given him back what they owed.
Mr. Neves said told the Dow Jones Newswires that once SJM clarifies where the shares are going, "it will solve everything."
"It will be a very simple process because they're all members of the same family. We don't need to check their background," Mr. Neves said.
Ho's SJM Holdings Ltd is the biggest casino operator in Macau in terms of revenue and it was planned that he'd divide the assets equally among 20 family members, four of which he claims are his wives.
It was late last year that reports suggested that Mr Ho's shareholding in SJM was reduced to almost nothing and it now looks like he has a fight on his hands to save any of his assets.
A South Korean man is also in trouble as two boxes full of cash were found in a storage facility belonging to him.
The money was allegedly made through illegal online gambling and the boxes must have been rather hefty – they contained $894,000.
Identified only as "Lim" it's suspected that he made the money between October 2008 and April 2009 operating a site and has been accused of using a false name, and a number of false documents.