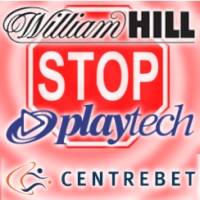 William Hill has taken out an injunction against technology provider Playtech in a bid to ensure that its interests in the William Hill Online (WHO) joint venture are protected. It's well known that Playtech has been seeking to amend the terms of the joint venture agreement, but apparently the Will Hill folks believe there's also more substance to those rumored merger talks between Playtech and Ladbrokes than Playtech is letting on. (Note to would-be Machiavelli's – try to make sure you've finished hoodwinking your existing partner before the Telegraph publishes your secret talks with their competition. Just sayin'.)
Will Hill's injunction would block Playtech from selling any part of its software to Lads and preclude the rejigging of the joint venture terms to permit a WHO-style arrangement between Playtech and Ladbrokes. While this legal squabble is obviously awkward for all concerned, both Will Hill and Playtech insist that the joint venture will remain a successful entity going forward. Playtech earned £30.8m in 2010 from its 29% stake in WHO, which increased its net revenues 24% last year. Will Hill is scheduled to report its own 2010 figures on Friday.
Aussie operators Centrebet International Ltd. posted a net profit of AU $1.84m in the first half of its current fiscal year, off 70.6% from the previous year's $6.3m figure. Operating cost increases of $5.5m — including an extra $1.9m in marketing costs and $1.2m in product fees — are being fingered as responsible for the slide in profits. Nevertheless, Centrebet remains confident that the increased marketing spend will bear fruit down the road, projecting that the full 2011 financial year will see an underlying net profit of $8m. Total revenues were up 4.4% to $33.3m in H2, driven by a 25% boost in Australian revenues, but European revenues fell by $2.6m, dragged down by poor casino and poker performance and higher banking costs in Norway. Bloody Norwegians… Always up to no good.