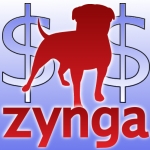 Zynga, makers of the number one Facebook app (Farmville) and six of the top 10 apps, has filed a patent application for a virtual game currency. The application stresses that the currency exchange is a one-way street, i.e. real money goes into the system, but cannot be withdrawn. In other words, what flows into Zynga, would stay in Zynga, which neatly sidesteps the issue of what legally constitutes gambling.
Zynga recently signed a five-year deal to use Facebook Credits on most of its games (excluding Texas Hold'Em Poker), so the company isn't likely to be introducing a new system anytime soon. But Zynga may be able to use the future development of such a system as a bargaining chip in future negotiations on other issues involving the two companies. Facebook is widely assumed to take a 30% cut of transactions utilizing its Credits, so it's not hard to see why Zynga might want to make up this drain by getting some claw backs in other areas.
SharesPost, a secondary market that allows shareholders in a private company to trade shares, pegs Zynga's current value at $5.27b.