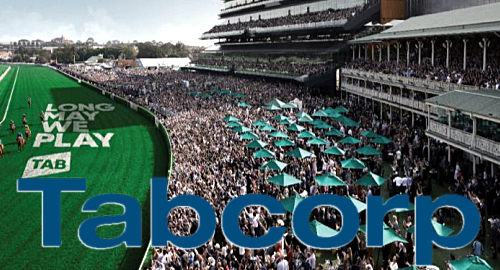 Australian gambling operator Tabcorp Holdings managed a modest profit gain in its fiscal H1 despite a sluggish wagering unit and an "unsatisfactory" performance by its gaming services division.
Figures released Tuesday show Tabcorp's overall revenue in the final six months of 2019 rose 4.4% year-on-year to AU$2.91b (US$1.95b) while earnings (before significant items) gained 2.1% to AU$596.5m and net profit after tax rose 2.9% to AU$213.5m.
Tabcorp is still thick in the weeds trying to integrate the operations of erstwhile lottery and betting rival Tatts Group, which Tabcorp acquired a few years ago. Tabcorp CEO David Attenborough assured investors that the company was in "the final phase of the long and complex process" of marrying the two firms' operations while promising that the expected synergies were just around the corner.
Tabcorp's mainstay Lotteries & Keno division posted a 12.4% rise in H1 sales to AU$1.58b, while earnings grew 16% to AU$295m. The lottery unit's omni-channel push is paying off in spades, as digital turnover shot up 39.8% while retail sales grew only 5.2%. Digital now accounts for 26.7% of lottery sales, up from 15.6% two years ago.
Lottery sales got a boost from a string of mega-jackpots, including a record AU$150m Powerball prize. Keno revenue couldn't keep pace but did manage a modest 1% rise.
The Wagering & Media division continues to struggle, with revenue falling 3.7% to AU$1.18b and earnings sliding 7.8% to AU$233.8m. It wasn't a case of punters playing lucky, as the company suffered declines in both digital (-3.9%) and retail (-9%) turnover.
Tabcorp blamed the declines in part on the boost the previous H1 got from the 2018 FIFA World Cup, plus the ongoing migration of customers from Tatts' old UBET brand to the TAB mothership. Tabcorp expects this migration to be complete before the current fiscal year is through, paving the way for a (finally) fully integrated betting platform.
The TAB rolled out its new 'brand position' last August under the banner of Long May We Play and the company claims to have received a "strong early customer response," although they didn't specify whether that 'strong' response was positive or negative.
TAB inked a deal last year to become the exclusive wagering provider for 1,200 ClubsNSW venues and Tabcorp says the exclusive retail offers available via the new 'Venue Mode' on its betting app helped boost digital in-venue betting by more than one-fifth year-on-year.
As for Tabcorp's Gaming Services division, revenue fell 4.4% to AU$149m and earnings tumbled 14% to AU$66m due to contract expiries and renewals at lower daily rates. Attenborough called this performance "unsatisfactory" and the company is "reviewing this business to improve its performance and realize its full potential."