Churchill Downs Inc appears to have a little difficulty with how it interprets collective bargaining agreements (CBA) with its unionized employees. For the second time in six months, the gaming and racing giant finds itself being forced to respond to a lawsuit from an employee union over allegations that it is in violation of established employment contracts. Filed in Kentucky, home of the world-famous Kentucky Derby, the lawsuit seeks to have Churchill Downs stop trying to skirt the limits of the CBD.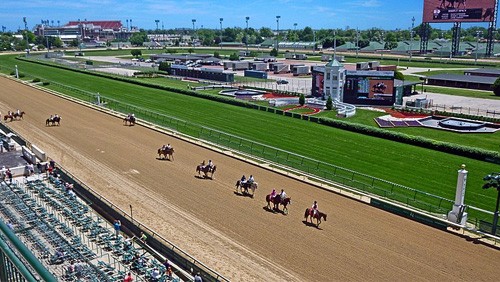 The Laborers' International Union of North America, Local No. 576 filed the lawsuit last week in the Western District U.S. District Court in Kentucky. It states that Churchill Downs has violated a standing agreement that prevents temporary workers from being kept between race seasons. The CBA, in place since 2018, states that the company can hire part-time workers for certain positions once the spring races end, as long as they are released ahead of the fall events.
The union asserts that Churchill Downs didn't follow that protocol this year and that it carried over part-time employees to the races that were held this past October. A grievance was filed shortly thereafter, but the company brushed them aside, forcing the union to take action. The lawsuit reads, in part, "Defendant's failure to and refusal to arbitrate the Grievance has been willful, in bad faith, and it constitutes a blatant disregard of Defendant's obligations under the Contract."
Churchill Downs disagrees and its general counsel, Justin Paul, had told the union that its grievance was rejected because the employees were not employed by the company but, rather, by a company that had been contracted by Churchill Downs to handle specific responsibilities. Paul added that the contractor had been working for the company for the past 13 years.
The lawsuit is meant to force Churchill Downs into arbitration, but it's too soon to tell if it will have its intended result. Chances are good, however, given that a similar lawsuit from last August saw a ruling in the union's favor. In that case, the same union had accused Churchill Downs of hiring a subcontractor to manage maintenance and housekeeping responsibilities at the Derby City Gaming track in violation of the CBA. That agreement, asserts the union, covered both the track and the headquarters of Derby City Gaming.
Churchill Downs disagreed with the assertion, and explained in its defense, "There were no discussions or proposals during the 2018 contract negotiations concerning bargaining unit employees performing work at Derby City Gaming. No representations were made by Plaintiff concerning the potential for bargaining unit employees to transfer to Derby City Gaming,"
When the case went to arbitration, the defense didn't stand up and the union won the battle. Churchill Downs, however, is appealing that arbitrator's decision.