The recent acquisition of CG Technology assets by William Hill was just the beginning, according to several industry analysts. While many sports gambling fans aren't in favor of having mega operators in the space – they would rather see smaller entities with better rewards – it's only logical that the sports gambling market consolidate, just like in all other industries.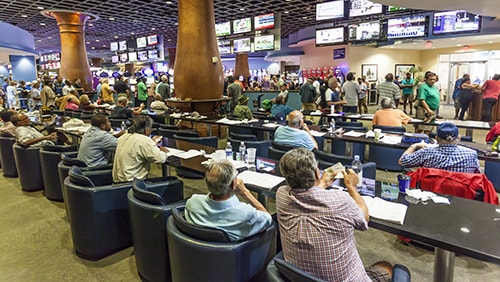 William Hill is going to take over CG Tech's sports gambling assets at several Las Vegas properties, including The Cosmopolitan of Las Vegas, The Venetian, Palazzo, Palms, Tropicana and Silverton. It will also introduce a gambling platform to the Atlantis casino in the Bahamas. Global Market Advisors partner Brendan Bussmann told the Las Vegas Review-Journal, "In regards to mergers and acquisitions, this is only the beginning."
Bussmann isn't the only one who sees consolidation as beneficial for operators, if not so much for fans. Tony Cabot is a professor at the University of Nevada, Las Vegas and a former gaming attorney and he points out that the fixed costs for running a sportsbook means that an operator can add more properties without incurring additional operating costs. He explains, "It makes sense for the sports betting industry to consolidate. The more customers you have, the more you can spread your costs and increase profitability.
Only the strong will survive. That's essentially the message shared by most analysts, including Chris Grove of Eilers & Krejcik. He anticipates there will be "a lot of consolidation" that could even include deals between suppliers and operators. Given the costs associated with breaking into the market, those operators with an established presence are in a better position to expand and will be able to control the sports gambling space. Grove adds, "Realistically, only the largest companies with the deepest pockets have chances of succeeding."
It's no surprise that William Hill went after CG Tech's operations. There was little doubt that the latter was going to have to leave Nevada at some point due to a few failures, and William Hill is in pure acquisition mode in the U.S., grabbing key locations wherever possible. It reportedly already controls 109 land-based sportsbooks in Nevada and 32% of the market share; getting the additional properties further entrenches its position in the Silver State.
Cabot sees William Hill as possibly being one of the last few operators standing when the dust settles. He explains, "William Hill has been a very well-established, very aggressive company, and I think that this is just indicative of their strategy to acquire as much market share in as many markets as possible. Ultimately, when the competition shakes out, they will be one of the surviving companies."