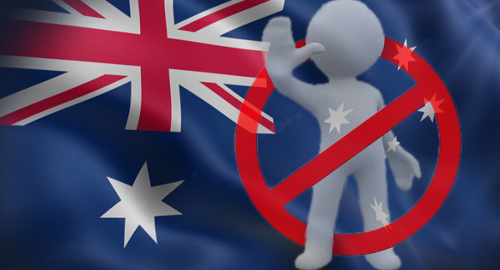 Australia's online gamblers could find their digital options limited after the government vowed to block the domains of unauthorized internationally licensed gambling sties.
In October 2018, word spread that Australian internet service providers (ISP) were on board with a plan by the Australian Communications and Media Authority (ACMA) to block the domains of any gambling site not holding an Australian betting license.
On Monday, the ACMA announced that it was preparing to implement its domain-blocking plan using subsection 313(3) of the Telecommunications Act, which requires ISPs to cooperate with the authorities to "disrupt access to illegal online services by blocking access to websites."
In future, punters who attempt to visit ACMA-blocked sites will instead find themselves looking at a 'stop page' informing them of the site's unauthorized status. The ACMA's 'disruption requests' will be periodically reviewed to determine if the site-blocking remains "appropriate," and if not, then the ACMA will instruct ISPs to unblock the site in question.
In 2017, Australia's amended Interactive Gambling Act 2001 took effect, enshrining the existing prohibition on online gambling products other than sports betting as well as the government's desire to more aggressively target any site not holding a local license.
ACMA chair Nerida O'Loughlin issued a statement that contained a litany of alarmist claims regarding international gambling sites, saying they often "refuse to pay significant winnings, or only a small portion." O'Loughlin warned local punters that "if you have funds deposited with an illegal gambling site, you should withdraw those funds now."
Australia's Communications Minister Paul Fletcher admitted that blocking was "not a silver bullet" but stated that the ACMA would be "moving quickly to block at least one website in the short term" and more blocks would be imposed "in response to complaints."
One year ago this month, the ACMA claimed that its enforcement actions had resulted in dozens of international operators withdrawing services from the Australian market. The ACMA further claimed that its actions would result in a 50% decline in the volume of business sent to these sites by Australian punters, although independent analysts suggested the reduction would more likely be in single-digit territory.