Starting with the blatant missed pass interference call by NFL referees in a game between the New Orleans Saints and the LA Rams last season, league officiating crews have continued to have serious issues with their ability to properly call games. This year has seen a myriad of missed calls, poor clock management and even too many penalty flags being thrown over nonsense. Several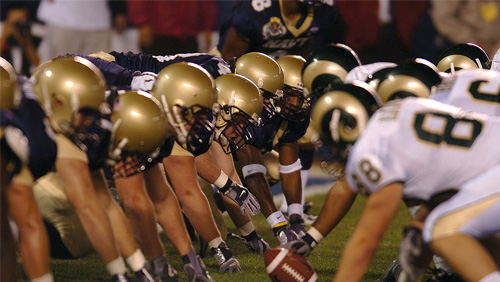 players have already spoken out over the issue and some believe that there is a correlation between the increased number of botched calls and the increased number of states that allow sports gambling. The latest is a Super Bowl MVP who believes there needs to be a formal investigation of the entire officiating crew.
Desmond Howard is a former wide receiver and return specialist who played in the league for ten years before launching a new career as a college football analyst with ESPN. He was watching this past Monday's contest between the Detroit Lions and the Green Bay Packers and wasn't happy with what he saw. On two occasions, Lions defensive end Trey Flowers was called for illegal use of the hands when there apparently didn't seem to be any foul committed, leading Howard to post on Twitter, "The refs need to be investigated. This is horrendous. Check bank accounts. #NoExcuses."
Some might arbitrarily assert that Howard's bashing of the refs could come from either some lopsided support of the Lions or some misguided animosity toward the Packers. Those people should check their stats – Howard played for the Packers and was with the team when it won Super Bowl XXXI in 1996. That was the same year he was voted the competition's MVP.
Even the NFL admits that it has a ref problem this year, but hasn't offered a solution. The organization's VP of Football Operations, Troy Vincent, checked the footage of the Lions-Packers game and said afterwards, "There was one that was clear that we support. And there was another that, when you look at it, when you review the play, it's not something that you want to see called, in particular on the pass rush. The foul wasn't there."
A week hasn't gone by this season without some seriously bad officiating taking place. It's a known fact that the NFL didn't want sports gambling to be legalized and the timing of the referees' actions are suspect. Either the league is working in cahoots with the referees to support its belief that it needs an integrity fee or the referees are simply incompetent and easily bought.
NFL gambling is not a new concept – it has been around for decades. Why would the league all the sudden feel it needed an integrity fee? This last season, it reportedly made over $15 billion in revenue; that wouldn't be enough to have already implemented a proper system to ensure integrity? Answers to those questions are as obvious as the missed pass interference call in the Saints-Rams postseason game last year.
The NFL recently brought a new VP on-board to help the officiating staff. However, the move doesn't do anything to actually correct any deficiencies. In an executive decision that seems to be little more than a smokescreen, the league has hired a new training executive for the referees, but the position doesn't actually involve any training. His or her job is to simply ask the refs where they think they need help and then offer guidance. This does little to improve their performance or to hold them accountable for their actions when they continue to screw up.