There are a wide range of poker strategy packages out there for poker players into self-improvement, but while some appeal to those with a restricted budget, or recreational players looking to get into the game for the first time, Pokercode is a brand-new training package strictly for GTO players.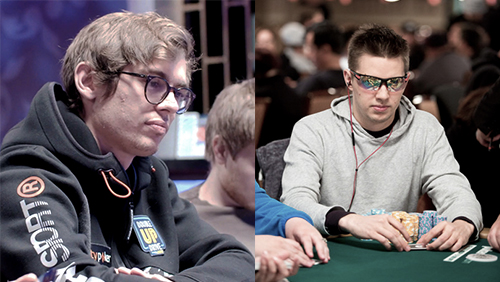 Fedor Holz has $40 million in live tournament winnings, with Matthias Eibinger a comparative pauper, with just $10 million. Between them, $50 million of tournament winnings are convincing numbers as to why you should invest your hard-earned money. As Holz himself states:
"Whether you just want to become a better player, make more money or become one of the best in the world, we will provide you with the framework. We've filtered thousands of hours and mistakes – and we made a lot of them – and made this course."
The course covers 'everything you need to know about pre-flop, post-flop, flop to turn to river' according to Holz, and when the #1 player in the world as of 2016 boasts that, you listen. This is, after all, the man behind Primed Mind, too. He's readied your mind in the past, now he's going to fill it with poker knowledge. So how much does the package cost?
Well, the Pokercode platform access with a limited discount you have just two days to claim, expires on October 4th, and costs $1,349 rather than the normal price of $1,549.
That's a big amount on the face of it, but this isn't any old knowledge that you're getting access to. It's Fedor Holz and Matthias Eibinger's collective genius, with Eibinger himself recently starring in the British Poker Open and playing extremely high-level poker in the series.
As well as 60 extensive lectures which cover live and online play, with videos going through every stage of play for no limit hold'em players, the discount pack will also see you receive original merchandise such as a hoodie and hat for those live felt moments as well as other unspecified 'goodies'.
It's no secret that both players have crushed GTO-level poker for the last few years – Eibinger even bills himself as a "GTO genius" on the site! – and since announcing his 'retirement', Holz has proved himself unable to resist the lure of winning money at poker with his skillset so rare.
The Pokercode program is billed by the pair as the 'world's most complete poker course' on which you'll get to know 'what no-one knows'.
Is it worth it? It'll cost you $1,349 to find out, but if you do plump for Holz and Eibinger as your mentors, you could hardly have two better teachers. With a plethora of packages out there on the market with one teacher, having two poker professionals who have changed the game like Holz and Eibinger is the biggest selling point for Pokercode.
Fancy investing in elite poker coaching from elite poker players? Maybe you'll crack the Pokercode too. If you want to know more, you can check out the website yourself at pokercode.com.
Comments