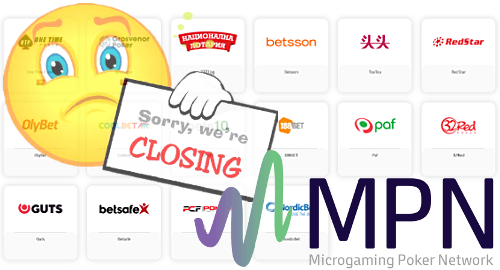 Online gambling technology provider Microgaming will close its Microgaming Poker Network (MPN) next year following "an extensive internal review of the software supplier's product portfolio and strategy."
On Friday, Microgaming confirmed that it had decided to shutter MPN after 16 years of operation based on its conclusion that "the network model no longer fits with our strategic vision for poker." The statement didn't offer a specific date by which the network will go dark, although MPN managing director Alex Scott wrote that the axe will swing sometime in Q2 or Q3 2020.
Microgaming CEO John Coleman insisted that MPN's closure didn't spell "the end for poker at Microgaming" and the company is planning "a new strategic direction for the vertical, details of which will be revealed in due course." But for now, Microgaming plans to "focus on redistributing key resources and personnel across the business."
Microgaming is far from the only poker operator to have endured reversals of fortune since the poker boom went bust earlier this decade. But player liquidity is everything and MPN's traffic had taken a tumble after losing several major skins in recent years.
Microgaming assured its poker players that their bankrolls are secure and that it will be business as usual until the shutdown. Scott said Microgaming was working with each of the network's skins "to help them make the migration [to new software] as simple and smooth as possible, for players and their business in general."
Next month's planned MPN Poker Tour stop in Malta will go ahead as planned, and players who have won seats to that tourney "should attend and play." MPN has one additional event planned and Scott said the company would confirm these plans before the Malta stop gets underway.
Similarly, the Universal Championship of Poker online series will continue as scheduled with no changes to its guarantees. Scott somewhat dryly added that players should "expect overlays."