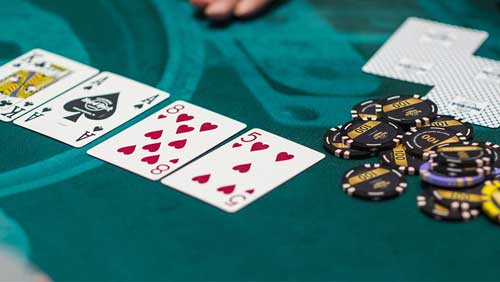 The Seminole Hard Rock Poker Open has ended in style with wins for Sean Winter, Jessica Dawley, Shaun Deeb and Keith Brennan in the Big Four.
When Sean Winter sits down to play poker, he's like an atomic warhead – simply unstoppable.
The Jacksonville native took down the Seminole Hard Rock Poker Open (SHRPO) $5,250 Championship event in Hollywood, Florida, beating 809-entrants to win the $698,175 first prize in the $3m GTD event.
The sounding of Winter's thunder came at the most convenient time. Winter's partner is expecting their first child in a little under three weeks. You won't see Winter back on the felt until the Poker Masters in November, as he figures out how to triple barrel bluff a baby.
"Now I feel like more I have a purpose though…You have someone to celebrate with and a purpose of why to win, so it's great." Winter told the press after his win.
It's the eighth live tournament win of his career, his third win of 2019, and his biggest score since finishing second to Steffen Sontheimer in the $250,000 No-Limit Hold'em Super High Roller in the partypoker Caribbean Poker Party (CPP) for $2,430,000.
Winter took the chip lead into a final table devoid of carrion. Joseph Cheong, second in chips, and in stunning form, won his first bracelet in the summer, beating 6,214-entrants in a $1,000 No-Limit Hold'em Double Stack. Shalom Elharar finished fifth in the Little One For One Drop during the summer. Jerry Robinson finished sixth in the recent $5,000 No-Limit Hold'em Card Player Poker Tour Main Event.
Cheong seemed to be Winter's primary problem until the deck delivered death by a thousand all-ins and losses. Cheong finished in a disappointing seventh place.
The heads-up duel was a one-sided affair with Winter holding a 6:1 chip lead against Elharar, and pinched every single one of them after AT beat KT in the final hand of the competition.
Final table results
1. Sean Winter – $698,175
2. Shalom Elharar – $487,695
3. Jerry Robinson – $314,230
4. Jordan Fisch – $232,0655
. Giuliano Lentini – $176,350
6. Ben Farrell – $139,705
7. Joseph Cheong – $115,300
8. Brandon Carl – $91,365
9. Nick Schwarmann – $69,800
Three more stars who went deeper than a stone in a witches' cauldron were Byron Kaverman (11th place), Thomas Boivin (12th place), and Ryan Riess (15th).
The big four
The $5,250 Championship event was one of four final tables streamed live simultaneously.
Let's round up the other three.
Shaun Deeb conquered a healthy field of 115-entrants to win the $25,500 No-Limit Hold'em High Roller. Deeb overcame a final table that included Olivier Busquets, Jake Schwartz and Jason Mercier.
The heads-up encounter fell between Deeb and Albert Daher, the man from Lebanon also finished seventh in the $50,000 Super High Roller. Mercier won that event.
Final table results
1. Shaun Deeb – $778,300
2. Albert Daher – $545,375
3. Olivier Busquets – $340,860
4. Andjelko Andrejevic – $235,760
5. Timothy Miles – $150,545
6. Josh Ray – $110,780
7. Jake Schwartz – $90,895
8. Matthew Wantman – $76,695
9. Jason Mercier – $73,855
Three other players who went deeper than a seal swimming away from a killer whale were Ali Imsirovic (10th), James Collopy (11th) and Daniel Strelitz (16th).
Jessica Dawley defeated Faraz Jaka, heads-up, to win the $2,650 buy-in, $1m GTD SHRPO No-Limit Hold'em event. The retired Air Force veteran, defeated 385-entrants to win the $204,610 first prize, a career-high.
Final table results
1. Jessica Dawley – $204,610
2. Faraz Jaka – $142,880
3. Nicholas Zautra – $91,690
4. Phil Rigby – $61,090
5. Raj Vohra – $46,890
6. Justin Zaki – $38,790
7. Jordan Cristos – $32,490
8. Jake Daniels – $26,240
9. Tha Ha – $20,460.
Lastly, Keith Brennan topped a field of 537-entrants to win the $104,035 first prize in the $1,100 buy-in, $500,000 GTD SHRPO No-Limit Hold'em event. Like Dawley, the result was Brennan's most impressive of his career taking up close to 50% of his total all-time earnings.
Final table results
1. Keith Brennan – $104,035
2. Cangir Elcin – $72,285
3. John Michalak – $46,400
4. Gary Leibovitz – $32,550
5. Jack Duong – $24,935
6. Mario De La Puente – $20,540
7. Brock Wilson – $17,030
8. Corey Hochman – $13,545
9. David Castranovas – $10,350
The best of the rest
The SHRPO was a stunning success, and some big names earned titles, including Samuel Panzica winning a $1,100 No-Limit Hold'em Turbo for $23,962. Jonathan Little topped a 211-entrant field to win the $97,160 first prize in a $2,200 No-Limit Hold'em event. Jason Mercier won the $715,860 first prize in the $50,000 No-Limit Hold'em Super High Roller. Cliff Josephy stomped all over a $2,650 Pot-Limit Omaha event for $40,520. Stephen Song conquered a 117-entrant $10,000 No-Limit Hold'em for $285,243.
The next time we see poker action of this magnitude at the Seminole Hard Rock in Hollywood will be 20 November for the start of the World Poker Tour (WPT) Rock & Roll Poker Open.