Wai Kin Yong has taken down the £100,000 No-Limit Hold'em Main Event after beating Triton co-founder, Paul Phua, in heads-up action, to claim his third Triton title.
You can choose to be a pipsqueak or a pike in poker's pond. Poker has never been more cutthroat. With the aid of artificial intelligence (AI) and Einstein-level programmers, we know what the optimal play is in any given situation.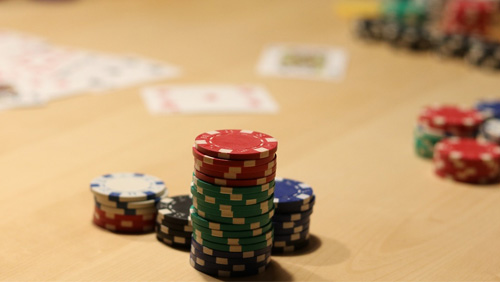 Players spend an excessive amount of time away from the tables, studying: watching video replays, understanding live tells, profiling opponents, figuring out the exact bet-sizing, analysing charts, and talking through scenarios with some of the best players in the world.
Well, most of them.
"I have done no work," said Wai Kin Yong in the build-up to the Triton Poker Super High Roller Series in London. "I have one strategy: luck. I pray to the Poker Gods to give me luck."
Luckily, for Yong, they were listening.
In The Clash of the Titans, the Greek Gods placed Perseus into the arena and gave him magical weapons to defeat his enemies. The Poker Gods did the same to Yong, accentuating his raw talent, intuition and luck so he could take down the largest Triton Poker Super High Roller Main Event in the tour's history.
Seventy-eight people bought in 52 times to create a prize pool of £12.2m in the £100,000 buy-in event – an incredible amount of money, and more proof of the growth of the Triton brand.
Coming into the final table, Triton co-founder, Paul Phua, held the chip lead. It was a bumpy ride for Phua from the money bubble to the tournament precipice, finding himself close to elimination around the money bubble on occasion, but he plonked himself down looking in the sharpest shape of his life.
The first player to head to the cashdesk to enter the consolation prize of the £100,000 Short-Deck Main Event was Triton ever-present Wai Leong Chan after his last ten bigs, and AcJh lost the all-important flip against Yong's pocket sixes.
Then we had a double elimination.
Daniel 'Jungleman' Cates moved all-in from the cutoff holding As3d, Stephen Chidwick did the same with Ac7h, and Michael Soyza ate them both alive with AdQd.
The next clash of the titans came between old and new. Phua has played more Triton events than anyone; Michael Zhang was playing his first. Phua's pocket queens destroying the pocket nines of the British pro after flopping a set and turning quads.
Greenwood is another recent ever-present on the Triton tour, and like Phua, he has never touched a trophy. You have to take a bow to the sheer consistency of the man, but today was not his day, finishing in the fifth place after moving all-in from the small blind holding Ts8d, only for Yong to take a punt and get lucky with Jh3s from the big blind.
Yong's termination of Greenwood guaranteed a minimum £1m for each of the remaining players, and the first to bank his check was Michael Soyza who got it in with pocket eights, only for Phua to take him on with Qh2h, and then flop a flush.
That left Ben Heath as the only player left to spoil a Triton co-founding party. Heath came into this one in sparkling form after winning a £50,000 No-Limit Hold'em event, and his first bracelet, in the World Series of Poker (WSOP). But it doesn't matter how good you are, or how well you're running, if you pick up pocket kings, get it in against AK, and then watch as your opponent flops Broadway.
Heath's exit confirmed a heads-up encounter between Triton co-founder Phua, and the son of his partner, Yong. After the pair agreed upon a deal that saw each player collect £2.5m with £150,000 in the middle, Phua began with a slight chip lead (61bb v 47bb).
Phua would be the first to admit that the younger man deserved to win when heads-up. He called for his tournament life holding Kd5h on KctC5d7s7c and then won the final hand with KsJc beating Qc6c for all the marbles in the jar.
Yong's victory means he joins Jason Koon, and Mikita Badziakouski as a three-time Triton Champion after winning back-to-back titles in Manila in 2016. Phua is still waiting for his first, despite cashing a record 15-times.
ITM finishes
1 – Wai Kin Yong, Malaysia, £2,591,695*
2 – Paul Phua, Malaysia £2,558,305*
3 – Ben Heath, UK, £1.35 million
4 – Michael Soyza, Malaysia, £1.12 million
5 – Sam Greenwood, Canada, £902,000
6 – Michael Zhang, UK, £711,000
7 – Stephen Chidwick, UK, £544,000
8 – Dan Cates, United States, £410,000
9 – Wai Leong Chan, Malaysia, £305,000
10 – Matthias Eibinger, Austria, £250,400
11 – Liang Xu, China, £250,400
12 – Isaac Haxton, USA, £220,000
13 – Xuan Tan, China, £220,000
14 – Sosia Jiang, New Zealand, £201,600
15 – Justin Bonomo, USA, £201,600
16 – Timothy Adams, Canada, £192,000
17 – Wiktor Malinowski, Poland, £192,000
*heads up deal