Reports from Triton Million London continue, this time with Linus Loeliger taking down Event #1: £25,000 No-Limit Hold'em 6-Handed Turbo.
Speaking in online poker parlance there's typically a massacre when Linus "LlinusLlove" Loeliger sits down for a session, and the entrails leave a bloody trail from his computer to the Triton Super High Roller Series.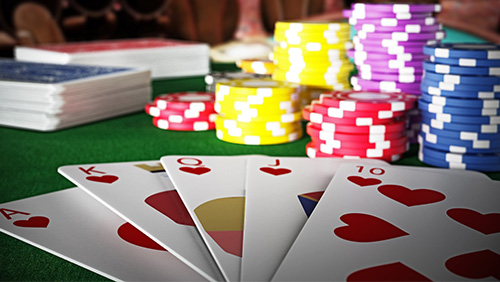 The Swiss star with over $1.4m profit gleaned from the online cash game tables first showed his face during the Triton Poker Series in Montenegro, finishing third in the HKD 250,000 No-Limit Hold'em Eight-Handed, and he's just climbed two rungs higher.
The blueprint for Event #1: £25,000 No-Limit Hold'em Six-Handed Turbo was to hand out the gold, silver and bronze within the day. Then 73 players turned up, re-entered 44 times, including three finalists, who had the minor issue of competing in the £1m buy-in Triton Million.
Tournament Director, Luca Vivaldi, paused the clock, told everyone to return after the Million had ended, and Loeliger was one of the eight warriors remaining in the field.
Here's how things went down.
The nutshell action
Michael Soyza has enjoyed an incredible rise to fame in recent years. The Malaysian star has risen through the ranks faster than most. From mid-stakes to Triton Champion in the blink of an eye, Soyza fell in eighth-place after running AJ into the pocket queens of Loeliger.
Elior Sion prefers high stakes cash games to tournaments, but if you're going to hold a £25k in his backyard, he's going to want a seat. The U.K. cash game pro, put in another reliable performance finishing seventh after making a stand with JcTh on QsJh4s, only for Luc Greenwood to turn up with AcQh.
Cary Katz was one of three finalists who competed in the Million. Katz spent most of that tournament like an empty barrel and explained how he had used all of his run good in Event #1. Well, it deserted him at the vital moment. Katz got it in with 44 to Greenwood's 77, flopped a set, but then watched in horror as the runout gave Greenwood a straight.
Then came the climactic hand of the tournament.
Greenwood opened to 500k with pocket aces, and both Loeliger and Timothy Adams called from the blinds. Loeliger led on the 6h4s3s flop for 375k, Adams called, Greenwood raised to 1.5m, Adams folded, and Loeliger called. The turn was the 2c, and Loeliger checked, Greenwood bet 1.5m, Loeliger moved all-in, and Greenwood made the crying call. Loeliger tabled pocket fives for the straight, and a chorus of "Linus! Linus! Linus!" burst out across online chat room screens.
The only story left was who would face the priest for his last rites before facing Loeliger, and it was Greenwood. Adams, who finished eighth in the Million after losing KK>AT, all-in pre, suffered more equity pain after his AK lost to the A5 of Loeliger.
115-entrants had perished like flies in a microwave oven; only we didn't get the zenith the fans of the live stream wanted. The heads-up fight between Greenwood and Loeliger was more of handbags at ten paces, when in the first hand, the pair got it in with garbage versus garbage, and Loeliger's trash won.
It's the first time that Greenwood has cashed on the Triton Poker Series, and he's been an ever-present since the tour cranked things up in 2018. It's Loeliger's second tournament win, and his second cash in successive Triton stops for Loeliger.
Next up, is Event #2: £50,000 No-Limit Hold'em, and a little birdie tells me that Loeliger did quite well in that one, also.
Payouts
1. Linus Loeliger – £690,000
2. Luc Greenwood – £466,600
3. Timothy Adams – £307,000
4. Cary Katz – £251,500
5. Elior Sion – £202,900
6. Kahle Burns – £160,000
7. Michael Soyza – £122,300
8. Kyle Carlston – £92,100
9. Tong Siow Choon – £92,100
10. Orpen Kisacikoglu – £56,300
11. Erik Seidel – £56,300
12. Ben Lamb – £49,500
13. Paul Phua – £49,500
14. Wai Chan Leong – £45,300
15. Dan Smith – £45,300
16. Ben Heath – £43,100
17. Patrik Antonius – £43,100