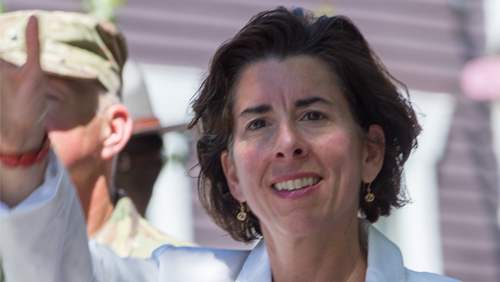 Rhode Island Governor Gina Raimondo recently decided that the contract between the state and International Game Technology (IGT) should be extended until 2043. IGT supports the state's lottery and the governor's support for the company raised some red flags since it didn't allow for the usual bidding process to take place and also because of some comments made by the top lawmaker in relation to the deal. Rhode Island legislators have now gotten involved, submitting an ethics complaint against Raimondo for violating state law.
Raimondo's desire to keep IGT behind the lottery came as Twin River offered to step in and manage the lottery. However, Raimondo turned down the offer, stating that the casino company didn't have the requisite experience. She also stated that she was concerned with the fact that Twin River is a public company "owned" by a hedge fund, while failing to mention that IGT is also a public company owned by a hedge fund. Both Twin River and IGT have hedge funds as shareholders — just like tens of thousands of other companies.
Raimondo also asserts that the deal is needed in order to secure state jobs. According to ABC's Rhode Island affiliate, this argument is easily countered. House Oversight Committee member Charlene Lima says, "This deal is being done with no transparency, it's being done with no accountability," Lima said. "We could have another company come in who could preserve and increase the 1,100 jobs."
Lima, who indicates that there is bipartisan concern over the governor's decision, sends a shot across the bow and states, "Do the right thing and end this special interest deal, and put it out to bid to benefit the taxpayers of Rhode Island and also to protect Rhode Island's reputation, because this deal is being watched globally."
The state's former GOP leader, Brandon Bell, adds, "It's kind of a scary deal. The fact that they didn't go out to bid. The fact that [Raimondo], in addition to her secret dealings, we find out that one of the people she's in fact dealing with is a business associate."
That "associate" is reportedly Donald Sweitzer. He is the former head of IGT and is now involved with the Democratic Governors Association, a group led by Raimondo.
Bell adds, "We're not saying that IGT shouldn't ultimately get this contract. Certainly it should be less than 20 years. I think certainly public vetting would reveal that. But let it be a bidding process."
If the state's ethics committee decides to investigate the complaint, the results of the investigation won't be known for several months. Raimondo's decision isn't final, as it still has to pass muster in the House, and won't be considered until this fall.