Andrey Pateychuk takes down the $5,000 buy-in, $2m GTD Card Player Poker Tour Main Event at the Venetian for $547,777. 
Optimism layers the tarmac on the modern runway of life. If we always look on the bright side of life, then our energy tickles the wingtip of the universe reminding it to follow through with their side of the bargain.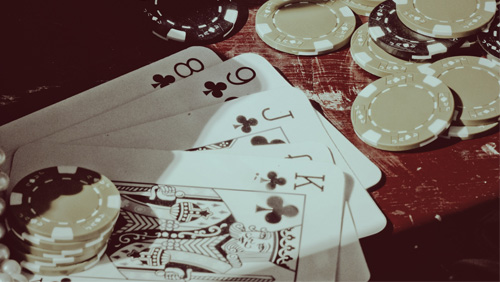 Optimism is great until you hit an obstacle. Then anger ejects you from the cockpit, forcing you to land in a rose bush, a thorny reminder of the betrayal of the universe.
You deserved Coca-Cola, not Pepsi.
You become outraged with the world, and the nits and fish who inhabit it, failing to understand the basics of how this thing operates.
Unlike the rest of the world, most poker players are pessimists schooled in the philosophy of Melancholia Universalis — a philosophy based on the reality that most things go to rat shit.
We will never meet the woman of our dreams; settling for the first person who shows an interest in us.
We will never learn to play the guitar.
We will die without ever winning a World Series of Poker (WSOP) bracelet.
Less obsessed about the missing jigsaw pieces in our lives when things go to plan, we can be more grateful.
So, what about, Andrey Pateychuk?
Optimist or pessimist?
"I came to Las Vegas in the middle of June, and my first three weeks were terrible," Pateychuk told Card Player magazine, recently. "I mean, really, really terrible. I never had [above] my starting stack in any tournament. I would fold for five hours and bust. Every day, I would go first to the Rio and bust there. Then I would go to the Wynn and lose a couple of entries. Then I would go to Venetian and do the same thing."
Pateychuk should have stuck to what has worked for him in the past. The last time the Russian won a live tournament was in September when he conquered a 457-entrant field in a $5,000 buy-in, $2m GTD event at the Merit Crystal Cove Hotel & Casino in Kyrenia for $280,643.
After Pateychuk's WSOP Horriblis, he slumped into the Venetian, fired two bullets in the 564-entrant, $5,000 buy-in, $2m GTD No-Limit Hold'em Card Player Poker Tour Venetian DeepStack Main Event, and won it.
Pateychuk burst onto the scene in 2011 when the small stakes online grinder won the 837-entrant European Poker Tour (EPT) Main Event in San Remo for €680,000, and the World Poker Tour (WPT) Main Event in Prague for €450,000, two months apart. Pateychuk has won ten live tournaments and accrued $4.8m in prize money.
It was a brutal final table, with Stephen Chidwick headlining. The British pro recently broke Alex Foxen's record of successive streaks as the Global Poker Index (GPI) World #1 (37 weeks) but was only able to hold the top spot for a fortnight before Foxen stole it back. Chidwick won his first bracelet at the WSOP, so was in fine fettle. He also finished fourth in the same event last year.
Chris Klodnicki made two final tables at this year's series finishing fifth in the $1,500 H.O.R.S.E. and third in the $1,00 8-Game Mix 6-Handed, and Robert Heidorn bubbled the WSOP Main Event final table for $800,000.
Final table results
1. Andrey Pateychuk – $547,777
2. Yake Wu – $336,497
3. Stephen Chidwick – $245,199
4. Chris Klodnicki – $182,595
5. Robert Heidorn – $138,251
6. Jerry Robinson – $104,340
7. Fabien Gumz – $80,864
Three other stars who sailed towards the end of the Nile in this thing were Marton Czuczor (9th), Jeremy Ausmus (10th) and Igor Yaroshevskyy (12th).
And what of Pateychuk?
Is he an optimist or a pessimist?
The man changed his flight twice during the four-day event. ​