Reports from two WPTDeepStacks Main Event winners including Faraz Jaka winning in Black Hawk, and Nathan Tetart doing likewise in Deauville.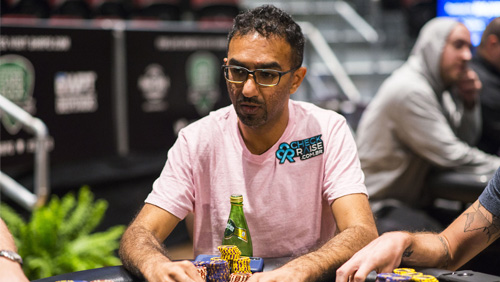 Faraz Jaka is the only player to win both World Poker Tour (WPT) Player of the Year and WPTDeepStack (WPTDS) Main Event honours after taking down the WPTDS Main Event in the Golden Gates Casino & Poker Parlour in Black Hawk.
Jaka won the WPT Player of the Year title in Season VIII, and is a rarity, having done so without winning a WPT Main Event title. Despite amassing more than $6.3m playing live tournaments, his victory in the 251-entrant event is only his third on the live circuit and his first since 2014 when he won a $6,000 No-Limit Hold'em High Roller at WPT Emperors Palace Poker Classic in Johannesburg.
The lack of ticks in the 'win' column doesn't mean that Jaka has been dragging his knuckles. In his post-match interview, Jaka told WPT reporters that he hasn't played much in the past two years, but intends to change that starting right now.
Jaka overcame a relatively inexperienced final table with the former World Series of Poker Circuit (WSOPC) Main Event winner, and Scrabblific, Krzysztof Stybaniewicz, the only other play to sit down with some big-time experience.
Here are the final table results:
Final table results
1st: Faraz Jaka – $77,290*
2nd: Ryan Remington – $54,305
3rd: Aaron Frei – $34,475
4th: Zackery Whitney – $20,970
5th: Krzysztof Stybaniewicz – $16,195
6th: William Mietz – $13,420
7th: Jeremy Wood – $11,265
8th: Yang Ruan – $9,420
9th: Evan Shaughnessy – $7,730
* First-prize amount includes the winner's $3,000 buy-in into the season-ending WPTDeepStacks Championship.
Three other stars of the game that implanted themselves deep in this one includes the WPT Champions Club Member, Tyler Patterson (20th), The World Series of Poker (WSOP) Colossus II winner, Benjamin Keeline (15th), the World Series of Poker Circuit (WSOPC) star, Vincent Moscati (23rd).
Nathan Tetart wins WPTDeepStacks European Championship
Nathan Tetart sits at the other end of the spectrum from Jaka having never finished ITM in a live tournament until he won the WPTDS European Championships in the Casino Barrière, Deauville.
It's a beautiful story.
Tetart only thought he would be in Deauville for a day until he won a €250 satellite into the event. Over the next five days, Tetart, who only plays for fun, had to keep calling his wife to explain why he had to stay another night before asking his hotel for another night's extension.
At least he has enough money to pay the hotel bill.
405-players (99 re-entries) entered the €1,500 Main Event in Deauville, and Tetart beat the reporter and PMU Team Manager, Gregoire Ceran Maillard, heads-up to claim the title and €102,655 in prize money.
Other notables who ironed themselves onto the final table were the former Estrellas Poker Tour Main Event runner-up, Teunis Kooij, and the WSOPC gold ring winner, Baptiste Carteau.
Final table results
1 Nathan Tetart € 102,655 + €2,000 WPTDeepStacks Main Event package
2 Gregoire Ceran Maillard € 70,115
3 Teunis Kooij € 50,670
4 Parham Ahoor € 37,460
5 Wellington Guedes € 27,970
6 Jacques Bellity € 21,625
7 Baptiste Carteau € 16,985
8 Richard Dubourg € 13,255
9 Dylan Slama € 10,475
Three other stars of the game lasting as long as the strings in a Fazioli Brunei include the former WPTDeepStacks Main Event Champ, Jimmy Livramento (30th), and the former European Poker Tour (EPT) Main Event Champion, Jean Montury (38th).