Three short poker news stories combined into one long one with Fabian Quoss exiting poker, Treasure Island shutting its poker room on the Las Vegas Strip, and the results from the WPTDeepStacks Main Event in Portugal. 
I'm going for a walk in 15-minutes.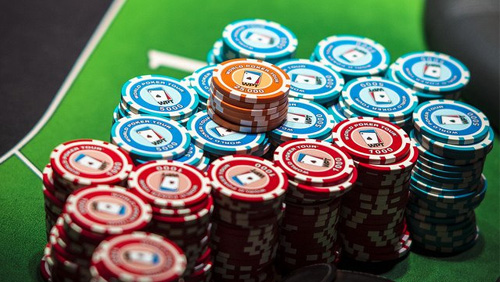 A man from Spain said I shouldn't cross my legs, not wear tight underpants, and to take off my shoes and socks and walk in the sand. So, in 15-minutes, I am going to find a children's playgroup, and go mental in the sand pit.
I am a prime heart-attack victim.
It's all this sitting.
They call it the 'new cancer'.
And as I type, the water in my glass shudders like a Tyrannosaurus Rex has walked into the room looking for its dinner.
Take me.
Leave the women and kids.
According to the man from Spain, I am as good as dead.
One of the hardest things about writing about poker (other than dying of a heart attack because you're sat on your arse all day) is finding newsworthy stories. Sometimes, you have to knit a few of them together.
Here is one that looks like a rainbow.
Fabian Quoss 'Exits' poker 
For some, poker is a hobby. For others, it's a job. Some view it as a career, and you get the odd Daniel Negreanu who believes it's his vocation.
I think Fabian Quoss has rattled around in all four of those cages, and after taking stock, realised that it had become a job. Jobs are great if you want to make some money, but not so grand when you start going all, Eckhart Tolle.
Quoss was always one of the most private men in poker, but recently he has begun sharing more of his life on Instagram, which is quite annoying because he is very good looking.
In one of his most recent posts, the man who has won close to $10m playing live tournaments spoke of his exit from poker, ostensibly pointing to the need to find higher value in life. He's not ruling out a return to the game that gave him the freedom he now seeks to make the most of, but I doubt you'll see much of him.
Quoss won nine live tournaments during his career including two seven figures scores in the $100,000 Super High Roller at the 2014 PokerStars Carribean Adventure (PCA) ($1.6m), and the AUD 100,000 NLHE Challenge at the 2016 Aussie Millions ($1m).
Treasure Island Poker Room Closes
The Las Vegas strip is a poker room light after Treasure Island (TI) decided to walk the plank after 12-years of swashbuckling action. The TI Poker Room was never that big, with only seven tables, and towards the end, the stakes and variety were never that high ($1-$3 NLHE cash game tables).
Back in 2012, the TI did renovate the poker room and moved it to a new location, but it seems those tables are getting in the way of profit. The closure means there are now 17 poker rooms left on the Strip.
In July 2018, poker revenue dipped 4% for the month, and this was despite the crowds clamouring all over the World Series of Poker Main Event making it the second-largest-ever.
Jimmy Livramento Wins WPTDeepStacks Portugal
I will bring down the axe on this unrelated combination of news stories, by telling you that Jimmy Livramento has won the WPTDeepStacks Main Event in Portugal.
Livramento overcame a final table that housed the former WPT National Iberia champion Tiago Branco, and last year's winner Francisco Lopes. In March, Livramento finished 11/1340 in the partypoker sponsored Irish Open Main Event, so he is in fine fettle.
It was the first live tournament score of his career.
Final Table Results
1. Jimmy Livramento – €50,000 (and a €2,500 WPTDeepStacks Package)
2. Henrique Couto – €32,000
3. Huge Cesario Gomes Andrade – €24,000
4. Pier D'Ancona – €17,800
5. Francisco Lopes – €13,367
6. Andre Cuco – €10,209
7. Artur Coelho – €7,891
8. Tiago Branco – €6,185
9. Jorge Oliveira – €4,918
The WPTDeepStacks tour moves to Marrakech Sep 27-30.