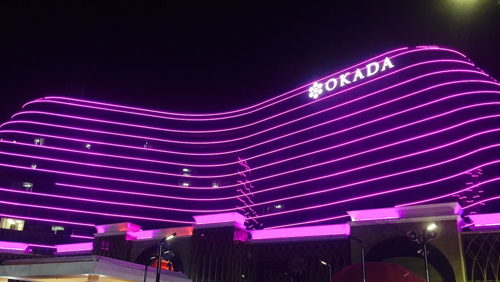 The month-to-month results of Okada Manila are starting to look really strong, but in 2018, they were still a year of investment. As a result, Okada has announced that they ended 2018 with an operational loss of JPY6.21 billion ($55.6 million).
That wasn't due to any lack of revenue though. They brought in JPY48.94 billion ($44 million) for the year, the operator Universal Entertainment Corp revealed to Jasdaq on April 26. They also announced adjusted earnings before interest, taxation, depreciation and amortization (EBITDA) of approximately JPY4.09 billion ($37 million) for the year, and it increased throughout.
"Okada Manila… increased net sales by the expansion of facilities such as hotel rooms and restaurants as well as by the grand opening of the VIP casino areas, addition of junkets and implementation of a mass market casino marketing programme," they wrote.
Hotel bookings were high, with 98.3% occupancy for the year. Gross gaming revenue (GGR) wasn't shabby either, with $522 million brought in by the casino.
So why the net loss? The resort still needs to finish its master plan. "Currently, adding more guest rooms is the highest priority of Okada Manila," they explained. "Plans also include expansion of the gaming area, including the addition of a casino exclusively for VIP guests, opening more restaurants and enlarging the shopping mall in order to attract an even larger number of guests."
They've started paying for that expansion as well. The company announced in December they'd taken on $600 million in debt to continue construction on the resort, an amount which was enough to put the company into the red for the year, but with a very promising outlook going forward.
As the resort continues to expand, it's seen increasing GGR numbers every month for a while, doubling their year-on-year numbers for January, increasing them 73% for February, and tacking on another 68% year on year increase for March. With more rooms and continuing high occupancy, it seems unlikely they'll finish 2019 in anything but the black.
This adds to good news the company saw on April 28, when the Philippines Department of Justice (DOJ) threw out perjury charges against chief executive adviser Dindo Espeleta, the Manila Bulletin reports. The charges were made against Espeleta in a tit-for-tat accusation with Aruze Philippines Manufacturing, Incorporated (APMI) over statements about APMI's ability to supply Okada Manila with light emitting diode (LED) strips for the resort's grand opening on March 31, 2017.
"The allegations of the complainant that respondent was fully aware that APMI does not manufacture the LED strips before APMI and TRLEI executed the Supply Agreement is based purely on conjectures and does not have a leg to stand on," the DOJ noted.
Comments