The World Poker Tour's inaugural Main Event at The Venetian is a success after Ben Palmer wins the 734-entrant Main Event, overcoming a final table including the likes of Tony Gargano, Danny Qutami and Will Givens.
There were a few arched eyebrows when one of our most beloved brands announced plans to enter the devil's playground and organise a Main Event at the Venetian in Las Vegas.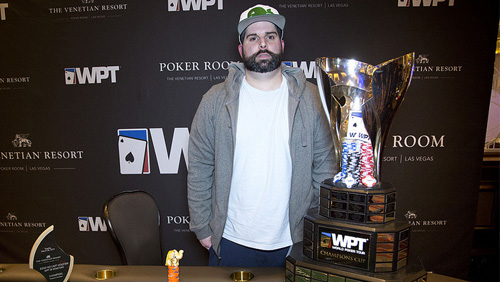 The World Poker Tour (WPT) did what they did, and judging by the 734-entrant field, they weren't the only ones who comfortably took a steak knife to their cognitive dissonance, slicing and dicing, so they could only focus on the icing.
Sheldon Adelson doesn't bother Ben Palmer.
Only Michael Sinclair (101) has registered more ITM finishes in Venetian events than Palmer (89), but Sinclair has never won anything like this.
The Venetian win was Palmer's 13th win of his career and his best score since beating 105-entrants to win the $189,975 first prize in a $5,180 buy-in event at the Bellagio over a decade ago. It also ended a pretty rough period for Palmer who had to settle for the role of bridesmaid in a 315-entrant, $1,600 buy-in event at the Venetian in November, and a 610-entrant event in the $1,700 buy-in World Series of Poker Circuit (WSOPC) Main Event in Planet Hollywood last spring.
A pantomime of poker princes partied with Palmer in this one.
Anthony Gargano, who has two WPT side event titles on his resume, finished 5/220 in the $25,500 WPT Championships back in 2011. Danny Qutami finished runner-up to Lawrence Greenberg in the WPT Bellagio Elite Poker Championship last spring. Mark Ioli was coming off the back of a 3/982 finish at the $1,600 buy-in Wynn Classic Main Event. And Will Givens is a WSOP bracelet winner.
Here is how they lined up.
Seat Draw
Seat 1: Danny Qutami – 3,945,000 (49 big blinds)
Seat 2: Tony Gargano – 2,205,000 (28 big blinds)
Seat 3: Will Givens – 4,035,000 (50 big blinds)
Seat 4: Orlando Barrera – 5,135,000 (64 big blinds)
Seat 5: Ben Palmer – 9,520,000 (119 big blinds)
Seat 6: Mark Ioli – 4,485,000 (56 big blinds)
It took 69-hands before the final table rail grew by one.
With blinds at 75k/125k/125k, Will Givens raised to 1,100,000 from the cutoff, leaving 425,000 behind, Mark Ioli, who had Givens covered, moved all-in, and the World Series of Poker (WSOP) bracelet winner made the call.
When the pair released their cards from beneath wrinkled fingers, Ioli was ahead with Ac8c v KhTc, and it stayed that way after Ioli flopped and turned two more aces.
A level later, and another man down.
With blinds at 75k/150k/150k, the action folded to Palmer in the small blind who made it 500,000 to play, and Ioli called from the big blind. Qd9c5s stained the table, Palmer bet 350,000, and Ioli called. The 8h fell from the sky to hit the fourth street, and Ioli called a 575,000 Palmer bet. The final card was the Kc, and Palmer used a time extension chip before declaring he was all-in, and Ioli snap-called. Ioli tabled Qs9h for a flopped two pairs, but Palmer showed 7s6s for a turned straight.
Orlando Barrera fled the nest in the same level.
Barrera raised to 600,000 from the first position, and Tony Gargano defended the big blind. KdKh7h fell out of the washing machine, Gargano checked, Barrera moved all-in for 1,250,000, and the call came in. Barrera turned over a pair of sixes, and couldn't help but smile when he saw the quad kings of Gargano.
The three-handed action lasted as long as an Avengers movie until Danny Qutami's luck ran out in third place.
With blinds at 150k/300k/300k, Gargano opened to 750,000 on the button, and then called when Qutami moved all-in from the big blind for 7,300,000. When cards were overturned, Gargano's AhQh dominated the Ac8h of Qutami. There would be no salvation in the deck, and Gargano would take Qutami's chips into a heads-up confrontation with Palmer.
The heads-up action began on an even keel with Gargano holding a 56bb to 42bb lead. Gargano pulled away before Palmer doubled up with Ah2c>As3d, and then moved into the chip lead himself after a flurry of winning pots.
Palmer's victory was assured in Hand #268 when Gargano moved all-in holding Ah4c and Palmer made the call holding QdTd. The JcTh9c flop gave Palmer the lead with a pair of tens. The 6c on the turn gave Gargano flush outs to add to his ace outs, but the Qh on the river was the perfect card for Palmer who secured the most significant live tournament result of his career.
Final Table Results
1. Ben Palmer – $431,655*
2. Tony Gargano – $277,760
3. Danny Qutami – $204,810
4. Orlando Barrera – $152,690
5. Mark Ioli – $115,105
6. Will Givens – $87,760
*Includes a seat into the $15,000 buy-in Tournament of Champions
Three other stars of the game who had to put the maid on overtime after running deep in this thing were the former November Niner Jay Farber (8th), the in-form Sean Yu (9th) and WPT Champions Club member, Eric Baldwin (12th).
The WPT Main Event tour bus now heads to Florida for the Seminole Hard Rock Poker Open with the $3,500 buy-in Main Event taking place April 12-16.  ​