Three own goals from the world of poker including 888Poker wiping historical notes from their software, the World Poker Tour opening up shop at The Venetian, and button mashing votes from the Global Poker Awards Nomination Panel.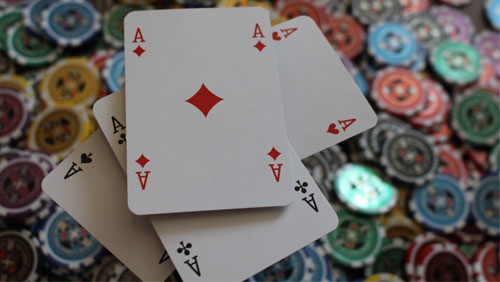 You were either a Pro-Evolution Soccer (PES) or FIFA fan. Those possessed with the desire to play PES did so because of the realism of gameplay. A tackle felt like a tackle. A dribble, a dribble, A Hot Shot Hamish of a strike came along once in a Super Worm Blood Moon.
The gameplay on the early versions of EA Sports' FIFA may have felt like a puppet show on acid, but at least they had the licenses. Back in the day, I remember buying the latest update of PES, and spending the next week changing Ryan Greggs to Ryan Giggs, Roberto Larcos to Roberto Carlos and Ruud vom Mistelroum to Ruud van Nistelrooy (I kept Neil Lemon as Neil Lemon).
One day, when one of my little cousins managed to pick up my game controller, I don't know how they managed it, but they did; they wiped out all of my name changes, my kit changes, stadia names – everything near and dear to my heart. At that moment, I wanted to bundle my little cousin in my arms, cover him in pigs blood, and dump in the middle of a starving wolfpack.
I imagine that's how 888Poker customers feel this morning in Own Goal #1.
Unless you have the mind of a Pokerplayertyrannosaurus Rex, then you likely use the note and colour code function when playing online poker so you can discern the fish from the sharks and the whales.
Earlier this week, 888Poker rolled out their latest software update, 'Poker 8', and it seems that the development team didn't foresee that wiping all of these notes off the face of the earth with a sponge filled with hydrochloric acid would create an army of customers desperate to spit in your face.
The poor sap whose job it is to man the 2+2 888Poker Thread has been working overtime this week, as the discontent rumbles on. We have to take a balanced view here and remember that for every person who complains about Poker 8, there is likely someone who loves it but is hardly going to post on 2+2.
But the Notes function.
I'm sorry, that's an own goal.
How could anyone with a wren egg's experience of playing online poker not foresee that wiping notes from people's profiles would be met with howling derision?
"Start listening to your players," 2+2 poster Leviathan74 wrote, "You don't want to listen to me, fine. But take 5-10 players who have been playing on your website for years, mix it up with the opinion of relative newbs and check whatever change you re contemplating with them. You won't find yourself hitting a wall again and again if you do."
2+2 Poster, DukeNo1 doesn't want to update.
"I read earlier posts where people complain about they lost notes and marks on players after the new update, I play for years on 888 and on daily basis making notes and marks on players I can not imagine to lose it all, that is impossible," wrote DukeNo1. "Software did not ask me yet to update so with me is all fine for now, I'm sure that many people will be very angry if they loss all notes and marks, please do something about that before final update."
Here is the 2+2 thread.
I am sure if the 888Poker representative posted the mobile number of Itai Pazner on 2+2, historical notes would magically reappear.
The World Poker Tour Promoting The Venetian
There's a drum in my mother-in-law's house where I am staying. It's massive and takes up so much room. I've been asking my wife to put it into the garage for months, to no avail, and I'm glad because I am about to give it a bang.
I'm no Chris Grove or Haley Hintze, but the last time I checked, the U.S. Justice Department had aired a new opinion on the 57-year-old Wire Act that grabbed online gambling's future in the land of the Red, White and Blue by the neck and threw it beneath a pterodactyl-like shadow.  Then a reporter for the Wall Street Journal confirmed what we had expected -Sheldon Adelson, the man who called online poker 'cancer', was the instigator.
If there is no online gambling, then there is no online poker.
Adelson has made it his mission to kill online poker, and the only thing we can hope for is that he dies of old age before getting his wish.
When you face an enemy like Adelson, you need to go to war with the man, or am I not thinking straight? Do I need to be more Sun Tzu about this whole thing?
Right now, as I type, the World Poker Tour (WPT) is hosting an event in The Venetian in Las Vegas, a hotel and casino owned by Sheldon Adelson, and unless they are playing a long con by trying to keep our enemies closer, I'm sorry, folks, it's an own goal.
The Global Poker Awards
The third own goal of the week has been the most blatant.
Allowing the blind, deaf and dumb to vote for the top live streamers, Vloggers and podcasts for the Global Poker Awards (GPA) is our third own goal of the week. However, in the Global Poker Index's (GPI) defence, it does seem to me that this whole process seems rushed, and it wasn't them that voted, it was idiots like me.
They aim to right this wrong.
Statement regarding the Global Poker Awards pic.twitter.com/ykZZssfsjC

— Global Poker Index (@gpi) March 20, 2019
And that's this week's own goals.
What spectacular poker 'own goals' have you witnessed this week?